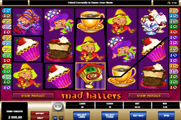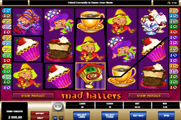 Mad Hatters Free Slots Review
Using figures that represent the Mad Hatter may seem crazy, but it's a good crazy! This slot game is filled with fun characters, bonuses and free spins in the form of pastries! You might get a little hungry for a snack when playing though, with so many pastries, coffee and other treats in this slot game!
The game takes players deep into the world of Alice in Wonderland, it does not focus like the rest of the games on Alice and her adventures, as it focuses more on one of the most popular characters from the fantasy story, the mad hatter. this is why the game is entitled Mad Hatters and it features not one mad hatter, but plenty of Mad hatters that are going to be appearing as symbols across the reels and the lines of the game.
Speaking of which, the game has a 5 reeled format that hosts a total of 20 lines across which players will form winning combos to earn great payouts Players will have to get at least 3 matching icons from the left to the right to claim a payout. all of the different wins are listed at the paytable of the game, as well as the different special icons and the features that the video slot machine has.
Joker / Wild: A crazy hat is wild and when it comes on my reels, it grows and covers the entire thing, replacing everything but the scatter symbols and cuckoo clocks..
Scatter / Free Spins: The laughing rabbit in a hat is the scatter symbol. If you get three of them, that's ten free spins, four gets you 25 free spins and getting all five rabbits will be a whopping 50 free spins! As an added bonus, these rabbits can also trigger a bonus game if you select the correct one.

Bonus: If you get three or more cuckoo clocks in a row you can click on them to win extra prizes.
Personal opinion: Playing the Mad Hatter while already in a good mood will definitely increase your playing experience, since it's such a fun and wacky game! Even if you're not in the best of moods, playing this for just a few minutes will surely bring a smile to your face, and even better, more money in your pocket! Even better, there is no risk of mercury poisoning from playing this game, even if that is where the original phrasing came from.