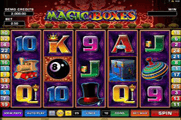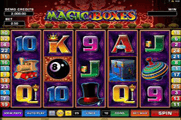 Magic Boxes Free Slots Review
Magic Boxes is a fun slot with a slightly magical twist. While the title may make you think that you are the new assistant as part of a great magic act, it's really much more than that. Sure, you have your magic top hats and magic 8 balls, but there are also plenty of old fashioned toys featured as well, like metal tops and wooden trains. These are all items that could be found in the Magic Boxes that the title alludes to.
This game has much more than just a few pay lines. There are also multiple bonuses to be earned, like scatters and wilds, in addition to the jackpots. Unlike some other games, the wild cards (8 balls) and scatter symbols (boxes) also have a secondary identity, as multipliers and free spins. You have to get at least 3 wild symbols in order to activate the free spins, and likewise with the boxes as the multipliers, but the payoff is huge when it happens. It sounds confusing, but once you start playing and see what I mean, you'll understand more fully.

This game has a great jackpot available too-$10k! or 50k in coins, if you prefer it that way. I'm still trying to earn the jackpot myself but haven't gotten there yet. I've come close quite a few times, and earned a big payoff that way, and will continue trying. Playing and trying to hit that ultimate goal is the most fun part about slots games, and all the wins you have in the meantime are just added bonuses!
You better be ready for a magical experience that is like none other that will take you on the stage of the magic show so you can open the magic boxes and get to claim the great rewards that they hold for you. The game has plenty of special features, symbols, bonuses and generous line pays. Players can get to know all about these features and payouts at the paytable of the game that they can open by clicking on the View Pays button.
If all of this is to your liking, we have great news for you, as we have the game here for free so you can get to try it out and take it for a test drive before having to place any real money bets or make any real money deposits at all.