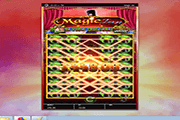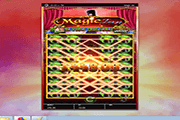 Magic Ian Online Slot: Magic Transpires as Base Game Event or as Bonus Prize!
Magic Ian online slot serves as showcase for Ian the Magician's magic acts. Blueprint Gaming developed a 5-reel grid initially containing 3 rows of magic show materials. Any paid spin can become eventful once the featured Magician waves his hands, or bring out his wand. He either expands or replicates reels, whilst conjuring a symbol to act as special Wild. Ian may even synchronise reel displays. Yet the trick that can deliver the most lucrative rewards is a direct entry to the Main Bonus Feature.
Once the Circle of Magic Bonus activates, slot players will have a chance to win instant cash prizes or play a round of free games. Not just one, but 4 types of free round can be won as bonus prize. Elements similar to those that transpire via Ian's base game magic enhance a specific bonus round. Awesome even is that participating players can upgrade prizes, by way of a Card Pick Game.
The Rabbit is out of the Magic Hat; taking part as Wild Card that can represent any symbol; as well as create regular-pay line wins. Symbols may appear as stacked images in any reel, including the highest paying Magic Ian Game Logo. In fact, the Rabbit Wild and Logo icons award the same range of pays; 3, 4, or 5-of-a-kind of their tiles award 25, 100 or 400 credits.

Magic Ian Online Slot: Base Game Magic Tricks
Ian's Magic show is all about casting spells that will enable players to reap Big Wins via any of  25-paylines. Watch what happens when Magic Ian raises his hand or brings out his magic wand, as any of the following will happen:
Reel Expansions – Additional rows of symbols will appear. This magic act can raise the height of the 5-reel grid with up to 8 rows of symbols.
Levitation Spins – As Ian raises his hands, random symbols rise and float. They eventually land and take random positions across the grid after the original spin outcome has been evaluated. The fresh displays may create additional winnings on the spin that triggered the levitation feature.
Teleport Spins – Magic Ian may decide to perform a magic trick that will create a second set of reels, containing the same elements. Any winning outcome produced by one will therefore double, since the second grid will be displaying the same set of winning arrangement/s.
Mirrored Reels – The Magician's magic act will make two or more columns identical by having the same set of icons. This feature may even transpire after Ian expanded the reels to a certain height.
Chest of Wonder – Occasionally, Ian brings out a Magic Chest and places it at the bottom of any reel. Once the reels come to a rest, the Chest may reveal Wild Symbols. The Wilds will then replace all symbols displayed in that column, converting the latter into a Wild Reel.
Symbol of Surprise – Magic Ian may decide to fill the reels with identical images by designating a special icon before the reels settle. Once the outcomes are in place, any reel containing the special symbol will undergo transformation. The special symbol replicates to fully cover the column in which it appeared.
Magical Streak – A group of images produced by a spin may land inside a lock and chain. Such an event triggers a respin that may carry on indefinitely if every respin produces more of the locked icons.
Shuffling Symbols – This magical bonus feature transpires after a non-winning spin. Images will shuffle to new positions until a winning combi is forrmed.
Bonus Boost – To boost player's chances of advancing to the bonus level, Magic Ian will conjure several Bonus Symbols and add them as reel contents. That way, the forthcoming outcome has increased potential for producing a Bonus Game Trigger-Combination.
Super Bonus Spin – In the event the spin produces only 2 Bonus Symbols, this magical feature will expand the remaining reels. The expansion will then allow a 3rd Bonus Symbol to come into view, and complete the Bonus Game trigger-combination.
Magic Ian Online Slot: Circle of Magic Bonus
This main bonus feature awards cash prizes or free-spins via a Bonus Wheel. Here, bonus players are given the chance to upgrade the prize won, either thru increased Total Bet Multipliers or advanced Free-Spin Features.
Each type of free games comes with a win-boosting attribute, largely similar to those awarded as base game bonus features.