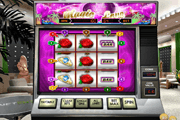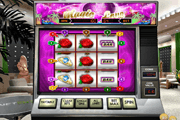 Magic Love : A Three-Reel Vegas Style Video Slot from Net Entertainment
Magic Love is one of those classic three-reel Vegas-style video slots created to bring the glory-days of original slot machine gaming. Instead of a full-screen presentation of a 3×3 grid, Net Entertainment presents the game by illustrating a slot machine in a hotel casino lounge setting. Perhaps, the idea is to bring the feel of traditional casino slot gaming even when played online.
Net Entertainment enhanced the classic slot concept by using romance-themed symbols. The only classic symbols in place are the Triple, Double and Single BAR symbols. After all, BAR symbols are easy to complete as payline wins, because classic slot games pay for any combination of the BAR variants.

Activating the Paylines
Magic Love slot has eight (8) paylines comprising three horizontal lines, three vertical lines and two diagonal lines. A player can choose to activate any or all eight (8) paylines by wagering from one (1) up to eight (8) coins on each payline. To increase the number of coins, click repeatedly on the Single Line or All Line Buttons, until the number indicator reaches the desired number of coins to place as wager for each line.
Using the Bet Max button makes it easier for a player to place eight (8) coins as bet on all eight (8) paylines or a total of 64-coin maximum bet for every spin.
Achieving Payline Wins
Three-of-a-kind symbols landing on a horizontal, vertical, or diagonal payline count as a win. The equivalent rewards are multipliers that increase the value of the bet placed on the winning payline/s. In this Vegas-style classic slot, it is possible to achieve multiple payline wins with just one spin. The total rewards per spin are determined on a per symbol basis. This is because each symbol has a corresponding multiplier-reward equivalent.
The Magic Love "All Romance" Pays 15x
Another modern touch to this 3-reel classic slot is the story line carried by the theme. The Car, the Rose, and the Heart Symbols denote a romantic escapade somewhere in a tropical island (Palm Tree.) The Engagement Ring, along with the Champagne Bottle explains the occasion. Magic Love calls them the "All Romance" symbols.
Players should take note that Magic Love pays x15, if a spin produces an entire 3×3 grid filled with purely "All Romance" symbols.
The ALL Pay Specials
Magic Love slot is configured with an ALL Pay Special. This refers to the special rewards for spin outcomes in which all nine (9) frames contain identical symbols.
The Car symbol for one has the highest multiplier reward of 300x for every three-of-a-kind payline win. It is a different story altogether if a spin returns with a 3×3 grid filled with All Car symbols in all nine frames. The pay equivalent for that outcome is 2,000x the total bet placed on all active paylines.