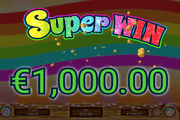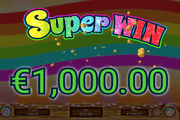 Magic Mystery Money Online Slot: Big Wins Come from Any of 4 Bonus Features!
Magic Mystery Money by Leander Games is a 243 win-ways, hippy-themed content built in a 3 x 5 grid. Although hippy lifestyle rejected materialism, it also encouraged sharing, which is exactly the central focus of this game. A guitar-strumming hippy, his hippy dog and 3 magical mushrooms standing beside the reels are not just onlookers. Occasionally, 1 or 2 of the off-grid characters, may adjust or improve the outcome of a spin
Celebrate if a spin produces 3 Bonus Symbols, as the event unlocks the Bonus Game Pick Pennants. Any of four (4) Bonus Features can be randomly selected as bonus play that furnishes opportunities for collecting guaranteed wins with ease.


In the meantime, earn payouts from groupings of 3 or more alike icons, aligned in adjacent reels starting from the far left column. To boost chances of hitting wins, a psychedelic thingy posing as Wild Symbol, may land aligned with identical elements. If the union starts from the leftmost reel, the Wild can complete or lengthen a paying combo.
The Hippy Dog has the highest range of payouts; rewarding players a cash prize equal to 8x, 60x or 500x the Bet wagered per spin.
Magic Mystery Money Online Slot: Random Reel Modifiers
On any ongoing spin the Hippie Dude, his Hippie Dog or the 3 Magical Mushrooms, may change the outcome in ways that can bring significant results.
Five-of-a-Kind Win – Watch closely once the Hippie fellow starts strumming his guitar enthusiastically. The music coming from his guitar will modify the outcome to ensure that a 5-of-a-kind win will transpire. His Hippie Dog on the other hand, may nudge the 5th reel to lengthen a winning combo into a full 5-symbol win.
Bonus Symbol Addition – One, two or all three Magical Mushrooms may take a jump then land subsequently on Reels 2, 3 and/or 4. Each landing Mushroom splatters, yet springs up as a Bonus Symbol. The Bonus Symbol addition will then increase players' chances of unlocking the Bonus Game Pick Panel.
Magic Mystery Money Bonus Games
Bonus Symbols simultaneously on display in Reels 2, 3 and 4, activate the Bonus Game Pick Pennants. Tapping on 1 of 4, reveals the type of Bonus Game that will deliver surefire bonuses.
Hippy Hippy Shake
This is a Pick Bonus Game that may carry on in 6 levels. Every strip represents a Rainbow Level, whilst containing 6 Flowers each. Pick a flower on each level to win either a Total Bet Multiplier, or gain a chance to advance to the next strip.
If on any level, a Flower reveals a Multiplier, the equivalent cash prize will be awarded. However, the event also ends the Bonus Game. It follows that the higher the level reached, the greater the cash rewards in store. If a player reaches the 6th Rainbow, any Flower arrayed as Pick Choices will reveal a Total Bet Multiplier, ranging from 80x up to 250x.
Flower Power
Another Flower Picking Game, but this time, one that allows players to accumulate all Multipliers revealed. First off, players select 1 of 4 Mushrooms presented, to determine the number of picks to use in playing the game.
Thereafter, they can start picking Flowers to reveal Total Bet Multipliers ranging from 1x to 50x. After the last pick, the total value of all Multipliers revealed will multiply the current Bet, and will be awarded as Flower Power Bonus.
Free-Spins
This bonus game activates five (5) Magic Mystery Money Free-Spins. During the brief bonus bout, a Wild Symbol will always appear at the center reel (Reel 3). Awesome even is that every emerging Wild carries a Win Multiplier that has potential to reveal a value as high as 25x.
Win Spin Baby
Unlocking this Bonus Feature brings a bonus reward in a jiffy. The regular Magic Mystery Money reels spin, and comes with a guarantee that the spin will generate a win-outcome.