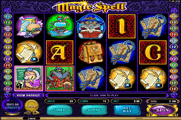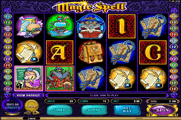 There are so many video slots out there that have tons of different little bonuses added on to them, like scatters, free spins, and wilds, to name a few.  While it's nice to play those every once in a while, sometimes you just want to play a five reel slot that doesn't have all those extras. It makes for a more challenge gaming experience, and can making hitting a big win that much more thrilling. Magic Spell is a five reel slot that falls into that second category, and it has proven to be a fun challenge. Magic Spell has a magical theme to it, but with a feline feel. The main magician characters are cats rather than humans, for a fun twist on an otherwise redundant video slot theme. It can be hard to keep these games fresh and fun, but Magic Spell does that very well. It does have a bonus game, triggered when you spell out MAGIC across the reels, as well as a multiplier and wild symbols, but is lacking the free spins and scatter symbols.

I think it's a really good mix of bonus features, especially since you seem to miss hitting the big multiplier more times than you land on it, and wilds are just standard. I always get frustrated when I'm playing a game with a scatter and am about to hit a big jackpot when that pesky scatter symbol shows up and ruins it for me. The bonus game is fun and quirky, and an easy way to win extra money without any work. I prefer to see it as a kind of bonus for all those spins you didn't win anything or barely broke even.
So get ready to enter the world of magic and wizardry through this beautifully designed and crafted video slot machine, Magic Spell. The game holds many winning chances, whether through the line pays of the game, or through the special features, bonuses and icons that the game has.
The game can be checked out right for free without having to place any wagers as we host the game here with demo credits. This way, players can check out the game to see what the slot has to offer and create an idea on what the game has to offer in terms of pays, winning chances, bonuses, features and more, before they start placing real bets at the casinos that host the game for real cash.