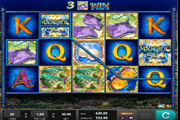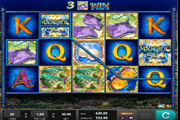 Majestic Sea Online Slot: Split Symbols Boost Odds of Landing on Top Paying Wins!
Majestic Sea online slot by High 5 Games/NextGen Gaming takes players on a marine-themed, reel-spinning game of matching icons in a set of 1, 5, 9, 15, or 30 paylines. Images of some sea creatures, commonly inhabiting the vast expanse of the world's tropical waters come into view as conventional or Split-Symbol reel elements. Split Symbols are single tiles but containing dual images that already count as two matching icons.
Even the Pearl Bonus Game Symbol has a Split Symbol version, and any combination of the Solo and Dual Pearl images may comprise a Bonus Game trigger combo. Yet the reel element that tops them all is the Majestic Sea Game Logo that poses as Wild Symbol. In the Free-Spins Round, a single MS Wild already counts as two, making it easier for players to win by way of Wild substitutions.
[/CBC]
Winning combinations of Tiger Shark, Stingray, Sea Turtle, Jellyfish, and Tropical Fish icons may constitute as many as 10 matched symbols, with corresponding pays of 1000 at the least, and 2500 at the most. A 5-of-a-kind Split Symbol match is all it would take to win the top reward for each sea creature icon.
Majestic Sea Wild Symbol
The Majestic Sea Game Logo may land on any reel, an attribute that enables the symbol to render broadly, Wild substitution actions to any group of identical symbols. The Majestic Sea Wild can also create its own payline combination. Three, four or five Wild Symbol payline matches award coin credits of 300, 1000, or 10000, respectively.
In the free games, a Wild icon already counts as two symbols if it combines with any of the sea creatures.
Majestic Sea Online Slot: Bonus Game Symbol and Free Spins Round
A single Pearl and a Pair of Pearls (Split Symbol) pose as the Bonus Game Trigger Symbols. A combination of those two types of Pearl images, if totaling five (5) or six (6) in all, triggers a round of free-spins. In addition, a combination totaling four (4) Pearl icons, award Scatter Pays equivalent to 2x the Total Bet staked on the triggering spin.
• Five (5) Pearl images comprising two (2) Pearl Split Symbols and one (1) Pearl Symbol (2 x 2 Pearls + 1 Pearl) award five (5) Free-Spins.
• Six (6) Pearl images comprising three (3) Pearl Split Symbols ( 3 x 2 Pearls) award ten (10) Free-Spins.
• Four (4) Pearl images comprising two Pearl Split Symbols (2 x 2 Pearls); or two (2) Solo Pearls plus one Pearl Split Symbol (2 x 1 Pearl + 2 Pearls); or four (4) Solo Pearl images, award the 2x Total Bet Scatter Pay.
• The five (5) and six (6) Pearl Combinations are excluded from Scatter Pays.
Free-Spins Bonus Round – In this segment, all sea creature images, whether Solo or Split Symbols, are configured to appear only in Reels 2, 3, 4, and/or 5 during the free games.
Inasmuch as a Wild already counts as two identical symbols when substituting for a sea creature icon, a Majestic Sea Logo emerging in Bonus Reel 1 may prove to be advantageous. A Bonus Reel 1 Wild and a Bonus Reel 2 icon of a Tiger Shark, Stingray, Sea Turtle, Jellyfish, or Tropical Fish in a payline, is already a winning 3-symbol combo.