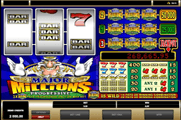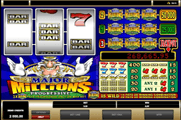 Major Millions review of a fun new slot game that has a military theme to it. Even though it's military, you won't see a whole lot of camouflage print on this one. There are plenty of head covers, tanks, binoculars, airplanes and ammo boxes, to name a few though. The whole color scheme is very bright and colorful, without the blinding factor. This 3 reeled progressive game was so popular and successful, that it encouraged Microgaming to release a 5 reeled version of the game that offers an exciting game play as well with many progressive jackpots.
One thing that stands this three reel slot apart from others in the category is the fact that while it doesn't offer free spins or a bonus game (both of which are becoming a staple in the larger reel slot games) there are plenty of multipliers, scatters, wilds, and a progressive jackpot in addition to the non-progressive one! Progressive jackpots are one feature that will keep you glued to the game longer than most others. There is a running counter at the top of the screen that keeps you up to date with what amount the jackpot is at currently. The higher the number goes, the more you will want to play!
The different payouts, including the jackpots of the game can be seen on the right side of the reels as players see all of the different icons that are going to be appearing across the reels of the game and the prizes that they can give to the lucky players. the highest paying icon is of course, Major Millions himself, as getting three of this symbol on any of the game's three lines means that players will earn a huge prize and if they placed the biggest bet of 3 coins, they will be able to trigger the jackpot payout. Try out the game here for fun with demo credits before trying it for real at any Microgaming powered online casino.

Be careful though, progressive jackpots can be won just as frequently as non-progressive ones, and you never know which side you will land on! These types of games attract players from all over, and in large numbers. That's part of the fun though, and who knows, maybe Major Millions will be the game that will help you join the ranks of the jackpot winners! Even if you never hit that big progressive jackpot, you will have fun playing this game.