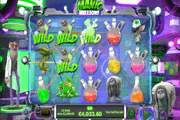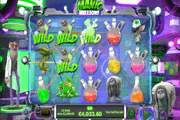 Manic Millions Online Slot: Morphing Symbols Become Additional Wilds in Base and Bonus Games!
Manic Millions by NextGen Gaming is a 25 payline cartoon-based online slot presented with the ever-popular Mad Scientist theme. Igor, the featured Scientist seems focused on finding out how Wild Symbols affect the outcomes of a spin. Thankfully, Igor's experiments entail morphing symbols in order to turn them into additional Wild icons, His experiments get zanier when in the Bonus Mode, as his Morphing Wilds add up to three (3) supplementary substitute icons in more than one bonus reel.
Apparently, Igor found out that adding Wilds are a boon. Perhaps satisfied with the results, the Scientist also morphs symbols to occasionally add Manic Millions Bonus Scatters in certain reels. Igor probably arrived at the conclusion that more Wilds increase chances of hitting payline wins, while more Scatter Symbols heighten odds of retriggering another round of free games and of collecting Scatter Bonus Wins.
[/CBC]

Manic Millions Online Slot: Wild Symbol
Since Igor initiates the addition of bonus Wild icons, it is only fitting that the image of the Scientist represents the Wild Symbol. Even greater still is that Igor's Wild icons can also form winning pay patterns.
Two (2) matched symbols at the least, or three (3), four (4) or up to five (5) Wild icons in any payline,  award coin wins of 10, 50, 200, or 1000. Like any regular payline wins, only the longest Wild combination in a payline earns payouts.
The chances of landing on Wild combo wins are great, especially in the Free-Spins Round in which the Scientist goes all out in adding Bonus Wilds!
Manic Millions Online Slot: Scatter Symbol and Free-Spins Bonus Game
The Manic Millions (MM) Game Logo symbolizes the Bonus Game Scatter icon. Five (5), four (4) or three (3) MM icons not only trigger a set of 10 free games. The longest winning Wild Logo combination also awards Scatter Wins of 1250, 375, or 125 coins multiplied by the current bet.
At some arbitrary point, whether the game is in the Base or Bonus Mode, Igor may choose to add MM Scatter Symbols to the reels. This time though, Igor's Scatter Symbol additions are reel specific, as he will add one or more Scatters only in Reels 2, 3, and/or 4.
Scatter Symbol additions are rare bonus features. Manic Millions slot players could likely gain more rewards not only from Scatter Wins but also from a renewed set of bet-free spins.
Manic Millions Online Slot: Betting Options
The range of Bet Values to stake as bet per payline is between 0.01 and 10.00. All coin wins, including winning Scatter combos are multiplied by the Bet per line.
However, since every bet staked on each spin covers all 25 paylines, Manic Million players may opt to play safe by betting minimum, for as low as 0.25 per spin (0.01 x 25 paylines); or take greater risks by betting as high as 250.00 per spin (10.00 x 25 paylines.)