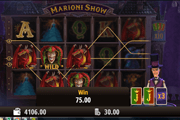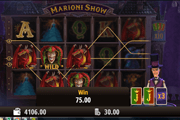 Marioni Show Online Slot: Unique Feature Awards Win-Multiplier in Base and Bonus Rounds
Marioni Show by Playson furnishes an online casino entertainment with a unique way of awarding a multiplier for every win occurring in any of 10 paylines. A Croupier stands outside the slot screen, to deal three (3) cards containing Multipliers every time a win event takes place. If the 3 cards reveal the same multiplying factor, then that Multiplier applies to all winnings due on that particular win event.
The great news is that when one or more Wild cards were instrumental in completing a winning arrangement. Those same Wild Symbols can also replace Multiplier Cards to help fulfill the one-of-a-kind set of multiplying factors. In the free round, the Croupier's hand reveals Multiplier values much higher than those dealt in the Base Game. Worth mentioning at this point is that there are two ways by which the free games can be activated. One is by striking a 3-Symbol Scatter combination and the other is by collecting it as rewards in a Battle Bonus Game.


Images appearing as Marioni Show reel elements include a Light Knight (in Gold Armor), a Dark Knight (in Silver Armor), a Beautiful Damsel, a Dragon, a Hag, and a Minotaur. The slot screen presents a tableau seemingly depicting a medieval tale about two rival knights trying to win the affection of a beautiful dame. The rivalry between the two heightens when they meet face to face in adjacent reels, triggering the Battle Bonus Game.
Marioni Show Online Slot: Wild Symbol and Extra Wild Symbol
A Joker Card in Green/Red color motif poses as regular Wild Symbol. It appears in any row or reel to render substitution services to help complete a winning arrangement within a payline. As mentioned earlier, its power to represent an icon extends to the Multiplier Value revealed by the Croupier.
The Joker Card with a Purple/Red color motif represents an Extra Wild that emerges only in Reel 1 of the Bonus Game Reels. Actually, its greater significance in the free round are the additional bonus spins activated every time it lands as outcome of a free turn.
Marioni Show Online Slot: Croupier's Multiplier Hand
The Croupier deals a separate set of cards for base and bonus game wins. In the main game, the 3 Cards dealt as Multipliers may be an assortment of x2, x3, or x4 values. In the event all 3 cards reveal similar factors, let us say x3, x3, and x3, it follows that a 3x Multiplier applies to all rewards earned from that specific win-event.
Now if a Regular Joker Wild took part in completing any winning combination, it can also perform substitution actions in the Croupier's Multiplier Hand. Such capability therefore increases the possibility of earning a Multiplier Factor that could double (x2), triple (x3), or quadruple (x4) winnings.
Now the most advantageous substitution action that may happen is when all 3 cards dealt by the Croupier will be replaced by Joker Wilds, because such an event automatically generates a x10 Win Multiplier.
Marioni Show Online Slot: Battle Bonus Game
This special segment sets off every time the Light Knight and the Dark Knight land next to each other, seemingly standing face-to-face. Marioni Show players taking part in this bonus feature choose a knight to root for during a 4-card battle game. In choosing the Light Knight, their total Bonus Wins will increase 15x if the Light Knight emerges as victor. On the other hand, the Dark Knight also presents a formidable choice as potential winner. Aside from collecting Battle Bonus Wins, 15 Free-Spins will be awarded as additional prize if the Dark Knight wins the battle.
Marioni Show Online Slot: Free Games
The regular set of free games constitutes 10 Free-Spins. Those are activated when three (3) Castle Bonus Symbols are simultaneously scattered across the Marioni Show slot screen. The Bonus Round immediately bestows a cash reward equivalent to 5x the Total Bet as guaranteed bonus wins.
Here, the Croupier deals Multiplier Cards showing x3, x5, or x7 values. The Green/Red Joker Wild can still substitute for both regular symbols and Multiplier values to further increase chances of hitting greater bet-free wins.
Moreover, the Purple/Red Extra Joker Wild arbitrarily adds 1, 2, o 3 additional free-spins every time it lands on Reel 1.