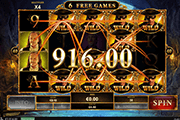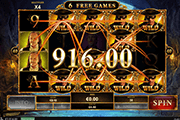 The Mask of Zorro Online Slot: Random Wild Additions Boost Base and Bonus Win-Chances
The Mask of Zorro online slot is Playtech's online casino presentation of Steven Spielberg's 1998 swashbuckler movie. Using actual film images of the movie's lead characters, their tiles may land as a set of high paying, one-of-a-kind groupings in any of 40 paying lines.
The image of Antonio Banderas as the Masked Zorro takes on the all important role of Wild Symbol. On any played spin, the unseen Mexican folklore hero may etch the "Z" mark on any spot; turning random symbols into additional Wilds. Zorro Wilds appearing in abundance during free games are a boon, especially in a bonus round with a win-multiplier.

Images of a much younger Anthony Hopkins as Don Diego de la Vega come around as highest-paying regular symbol. Three, four, or five of the icon organized as matched contents of any paying line, garner 75, 250, or 500 coin credits.
Yet when it comes to highest pays, the Zorro Wild has the highest pay scheme. Three, four, or five Zorro Wilds award 100, 500, or 1000 credits, multiplied by the Line Bet just like any regular-paying symbol.
The Mask of Zorro Online Slot: Random Wild Additions
During any ongoing roll of the reels, the "Z" Mark of Zorro etches on one or more reel positions. Once the reels stop, all tiles bearing the "Z" Mark will reveal Wild Symbols. This feature could bring four (4) additional Wilds at the least, and up to 10 at the most. Zorro's Mark may slash an entire 2 x 2 block of adjacent icons, naturally producing a cluster of Wilds.
Remember, this feature may also transpire during the Secret Cave Bonus Game, where opportunities of striking payline wins, including Wild combinations, are bet-free.
The Mask of Zorro Online Slot: Free Games
Candle images pose as elements that trigger the 2-part Bonus Game. The symbol though occurs only in Reels 1, 3 and 5. If all 3 reels return with at least one (1) Candle icon in each column, the Secret Cave Bonus Game initializes.
The bonus segment commences with the presentation of six (6) Candles, from which players select any two (2). Candles reveal either a number of Free-Spins that will increase a default set of five (5) bonus spins, or increase the standard 1x Multiplier.
It is possible for both Candles selected to reveal Free-Spins increments only. If so, the bonus round carries on with only the standard 1x Multiplier. On the other hand, if both Candles reveal Multiplier increments, then the free round continues with the default set of five (5) free-spins; but with a higher Win-Multiplier Value.
A more advantageous outcome of the Candle-picking activity therefore, are numbers that will increase Free-Spins and Multiplier as well.
Candle Bonus Symbols may still land anew in Reels 1, 3, and 5 via a bonus spin. This denotes that bonus game players of The Mask of Zorro online slot can still activate another round, following the given procedure.