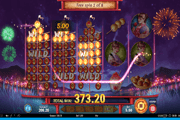 Matsuri Online Slot: Lantern Wilds Expand, Persist and Shift Positions in Free-Spins Round!
Matsuri means festival in Japanese and this Play'NGo online slot presents a montage of the sights and sounds of the Japanese Lantern Festival (Tōrō nagashi ). The Lantern being the principal object of the celebration aptly serves as the Wild Symbol of this online slot. In the Free Games, The Lantern Wilds are likely to bring amazing Big Wins. Every Wild that emerges across the Matsuri bonus reels, expands, persists, and shifts position to make for room for more Wild Symbols.
In addition, Matsuri slot players will have a chance to play virtually a popular Japanese entertainment called Kingyo Sukui, a Goldfish Scooping game. According to the Game Info, there is a chance for lucky players to collect a jackpot bonus equivalent to 500x the Total Bet.
Images of kimono-clad Japanese women represent the top-paying symbols. The pretty ladies appear alongside reel images of festival food stall delicacies like the skewered dumplings called Dango, the traditional Japanese candy-coated Mizuame confectionaries, and the Kakigōri shaved ice dessert.
Matsuri Online Slot: Wild Symbol
The Japanese Paper Lantern being the Wild Symbol of the game can represent any emerging Matsuri reel image, except for the Goldfish and Mask Scatters. The Lantern icon appears in any row or reel, but must take position in the same payline on which identical symbols are aligned.
In the event 3, 4, or 5 Lantern Wilds line up consecutively in conformity with a pay pattern, a winning combination is likewise formed. Similar to regular payline combos, only the longest Wild Symbol arrangement that starts from the leftmost reel earns a corresponding cash prize equivalent to 25x, 100x, or 1000x the coin bet staked per winning line.
Matsuri Online Slot: Kingyo Sukui Bonus Game
The virtual Kingyo Sukui Bonus Game launches when three (3) Goldfish icons land as scattered outcomes of a base game spin. Here, Matsuri slot players engage in an entertaining Goldfish Scooping activity in which a delicate paper scooper is used to catch a Goldfish. Each Goldfish transferred successfully to a bowl merits a coin reward multiplied by the current Total Bet.
However, if during the scooping exercise the paper scooper is ripped, the Kingyo Sukui game ends.
Matsuri Online Slot: Free Games
Three (3) Japanese Festival Masks landing on any spot across the grid activate the Free-Spins Bonus Feature. Eight (8) bet-free spins will be awarded as initial round of free games. There could be more, as every Mask Scatter emerging as outcome of a bonus spin brings on two (2) additional bonus spins. This Bonus Feature is configured to award up to a maximum of 20 free turns.
All Wilds appearing on any reel transforms into a full-reel Banner of Wild Lanterns during the bonus round.
The Banner Lantern Wilds will continue to be visible across the grid but will transfer leftward to the next columns one step at a time. The reel transfers carry on until the full-reel Banner Wild disappears after reaching the leftmost column. In the meantime, more Wilds may appear and unfurl as Banner Wild Reels and likewise shift positions in the same manner. In such instances, multiple Lantern Wilds comprising the Banner Wild Reels will therefore optimize the succeeding bonus spins.
Matsuri : 2 Awesome Bonus Games that Bring Surefire Wins!
Matsuri is a 25-payline online slot from by PlayNGo that features 2 Bonus Games that deliver surefire wins. The virtual Goldfish Scooping game awards instant prizes on every goldfish scooped and transferred to a bowl, while the Free-Spins Bonus Feature turns a single Wild into a persisting Wild Reel that shifts position to make room for other occurring Wild Reels.