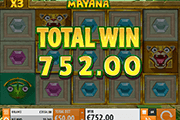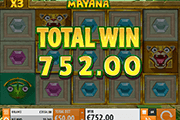 Mayana Online Slot: Wins Trigger Respins, Expanding Reels and Multiplier Progression
Mayana is an online slot in which every win-event triggers a respin. A respin on the other hand, locks the winning symbols in place. It also unravels hidden symbols, as well as spur Multiplier progression. A series of respin-wins therefore can unlock all hidden symbols and increase the multiplier value. If a Mayana player gets lucky, he or she may set off a random feature that could raise the factor to x4, and even up to x20.
Quickspin configured this Mayana game with a 3 row x 5-column grid. Yet a standard spin launches only the second, third and fourth reels. That is because the first reel initially holds hidden Multipliers of 1x, x2, and x3. The fifth reel on the other hand contains Mystery Symbols, which are gradually revealed through spin-wins, or a chain of respin-wins. Actually, it takes only three consecutive win-events to unlock all reel elements, including those hidden behind the Reel 1 Multipliers.


Mayana Online Slot: Win-Ways Growth and Reel Expansion
As the reels expand and all symbols come into view, the number of ways by which the images can form winning arrangements also increases.
Respin 1 – The first set of reels (Reels 2, 3, and 4) comprises 9 icons that can land as matched combis in 27 different win-ways. If a respin launches after a standard win, the Reel 5 bottom symbol will be revealed. Simultaneously, the Reel 1 Multiplier at the bottom position will be replaced by a regular image. The two additional symbols though will not increase the original number of win-ways.
Respin 2 – When the first respin results to yet another win outcome, the Reel 5 middle tile opens to reveal the Mystery Symbol. Similarly, a regular symbol will replace the x2 Multiplier in Reel 1. This time, the additional icons increase the number of possible winning combinations to 108 winning ways.
Respin 3 – If a third respin follows, the Reel 5 top tile unravels the last hidden symbol, while the Reel 1 x3 Multiplier will also be replaced by a regular element. This development brings a complete set of 15 images in the 3×5 grid, whilst raising the number of win ways to 243 in all.
A third respin though does not always reveal a x3 Multiplier in Reel 1. Instead, the event may activate a random feature dubbed as "Mucha Mayana."
"Mucha Mayana" is a special occurrence that brings a Multiplier beyond the x3 maximum once the entire 3×5 grid fills with symbols . A random multiplier ranging from x4 to x20 may be awarded to increase the winnings garnered in the final respin.