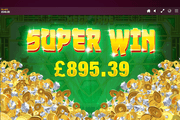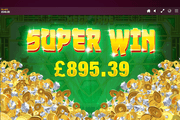 Mega Jade Online Slot : Pay Anywhere Win Lines w/ Win-Boosting 3×3 Mega Jade Symbol
Mega Jade online slot is a Red Tiger content configured with 10 paylines that pay anywhere on matched combinations. Three or more identical elements need only to organise in adjacent positions of a pay pattern. Moreover, images emerge as Stacked Symbols; entirely or partially in view as layers of alike icons in a single reel. The game's most valuable element is a huge 3×3 Mega Jade Symbol, which when occurring as outcome, is certain to bring multiple guaranteed wins.
The jade gemstone in Chinese feng shui, is widely believed as capable of transmitting energy that can ward off bad luck. Here, top paying elements are jade stone variations: Hexagonal, Square or Uncut Version. The special 3×3 Jade, is a round-shaped green stone encased in gold, which instantly occupies 3 adjacent reel-positions.
Although the pay-anywhere attribute greatly increases chance of collecting rewards on matched combos, this game has no Wild Symbol or Bonus Round festure to offer. Still, Mega Jade players can hit exciting wins despite the absence of those features. Stacks of identical low-win icons appear frequently in adjacent reels.
High-win Jadec tokens, including the Mega Symbol, are not as active. Yet once they land as multiple winning combos, the returns will likely be exceptional.


Mega Jade Online Slot: High-Paying Symbols
The highest paying symbol of course, is the Mega Jade. The lineup of other top payers includes the regular-size Hexagonal Jade, the Square Jade and the Uncut Jade.
The Mega Jade emerges as a block of 3×3 icon occupying 3 adjacent reels; whilst carrying an equivalent of nine (9) units of Round Jade Gemstones. A full Mega Jade appearance therefore, is certain to yield multiple payline wins. Partial Mega Jade stacked displays may also emerge simultaneously; potentially forming not only multiple, but also longer winning arrangements.
A payline win composed by an equivalent set of 3, 4 or 5 Mega Jade units, correspondingly garners 38, 388 or 888 win-credits.
Hexagonal Jade, if occurring as a set of 3, 4 or 5 icons anywhere within a paying line, draws 60, 250 or 500 win-credits.
Square Jade, doles out 50, 150, or 300 win-credits respectively, on 3, 4 or 5 icons aligning consecutively within a payline.
Uncut Jade images ranks as the least paying green gemstone, but still awarding notable payouts; 40, 100 or 200 win-credits on the same numbers of elements composing a payline win.
The low-win A and K icons are nearly as lucrative. Both symbols garner 20 win-credits on 3-of-a-kind wins, or 200 win-credits on 5-of-a-kind combos. The A Symbol though awards 80 win-credits on a 4-unit win, while the K icon pays a lesser 50 win-credit.
Mega Jade Jackpot Feature
Take notice that once in awhile, Jackpot Symbols land as outcomes of a spin. The Jackpot configuration though, depends on the online casino offering this Mega Jade slot, as in the case of Mr. Green. Three (3) Jackpot Symbols occurring simultaneously as spin-outcomes may trigger the release of a Mini, Daily or Progressive Mega Jackpot.
.