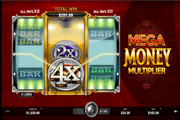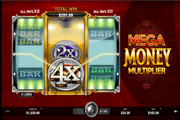 Mega Money Multiplier : 3-Reel Vegas Style Classic with Multiplier Twists!
Mega Money Multiplier by Microgaming is a 3-reel online slot that features different Wild Symbols in Multiplier forms. Multiplier Numerals pose as substitute symbols when aligned with identical icons within a pay line. As incrementing elements, all Factors involved in completing a win increase the corollary prize. Actually, those Multipliers are quite powerful, especially when two (2) or more comes into view after a spin.
Reel elements traditionally used as icons in early Vegas slot machine games, give this online slot a conventional look. Yet the Wild Multiplier Factors render certain twists that produce rewarding results in other ways. Two (2) or more Wilds can trigger a cost-free Re-Spin. If those Wilds form part of a winning arrangement, both factors multiply the related cash prize.


Mega Money Multiplier Online Slot: Wild Multiplier Symbols
The Wilds of this game come around as 2x Multipliers in any column, except in Reel 2 in which a 5x, 4x, 3x Factor pairs off or clusters with the regular 2x Factor. When that particular Multiplier configuration emerges, the Wild Multiplier Respin Feature activates. If they form part of a winning combination, the regular 2x and the Multiplier Value highlighted by Reel 2 increases the payline win based on the following arrangements:
• One (1) Wild Multiplier icon in any Reel, combining with two (2) identical symbols within a payline, increases the corresponding prize by the factor carried by the Wild.
• Two (2) Multiplier Wilds in any reel, aligned with a non-Wild totem in the same payline, increase the related prize by the factors displayed by the completing Wilds.
The Wild Multiplier Respin Feature is a bet free turn that occurs if the special Wild Multiplier configuration lands at the center of Reel 2 in combination with another Wild Multiplier. In such an event, Reels 1 and 3 respin to produce new outcomes, while Reel 2 remains stationary. If Reels 1 and 3 return with identical symbols that could be completed via Wild substitution, all Wild Multiplier factors included in the winning combo will increase winnings.
Actually, every Wild Multiplier that emerges as outcome/s of a spin or respin awards a prize, even if the emerging icon does not render substitution actions:
• A 5x, 4x, 3x, or 2x Wild awards 5x, 4x, 3x, or 2x the Coin Bet, respectively
• Any one of 5x/2x Wilds award 20x the Coin Bet
• Any one of 4x/2x Wilds award 16x the Coin Bet
• Any one of 3x/2x Wilds award 12x the Coin Bet
• Any pair of 2x Wilds award 8x the Coin Bet
Mega Money Multiplier Online Slot: Special Combination-Pay Features
Every winning arrangement always constitutes three (3) identical symbols occurring in any one of nine (9) paylines. Yet this 3-reel slot follows the traditional mechanics of awarding pays for any combination of similar symbols presented in different forms.
The Red 7 is the highest paying symbol, awarding 40x the Coin Bet, while a similar Purple 7 icon pays 35x the Coin Bet on a 3-symbol win. When a 3-symbol payline constitutes a combination of Red and Purple 7, the assembly garners 15x the Coin Bet.
The BAR-BAR-BAR, BAR-BAR, and BAR totems may also combine and form a payline win; awarding a cash prize equivalent to 3x the Coin Bet.