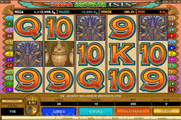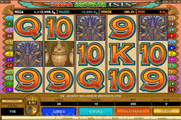 Mega Moolah Isis is certainly one of the most popular and highly rewarding progressive jackpot casino slots in the world, powered by Microgaming. like its sister game, Mega Moolah, the game has given millions of credits in rewards to players across the world since it was introduced by the gaming developer. The thing about progressive jackpot games is that their jackpot increases every time players place bets n the game at any of the Microgaming powered online casinos, as the game is connected to the MPN (Microgaming Progressive Network). This is why as players are spinning the reels of the game, they will notice that the jackpot is always increasing, and this is also why it can reach millions of credits before a lucky player pops it and claims it as his own.
Let's face it; nobody really plays slots to see how much money they can lose. It's all about winning, or beating the odds, or seeing how long you can last.  Sure, there may be the random one or two people that have way too much money that say, "let's see how fast I can lose (insert amount)" but those people are the extreme exception.  So why on Earth would you not want to play a game like Mega Moolah Isis? This video slot has it all.  There are jackpots, free spins, wild cards, scatters, and it's even one of the few slots out there that have a progressive jackpot attached to it. So get ready for a highly rewarding ride that is fun, exciting ride like none other.
>

Progressive slots attract more players than many other slot games, so it shouldn't surprise you that jackpots are hit more often.  This game's progressive jackpot is triggered randomly with the Egyptian Wheel icon, and each level of the jackpot is determined by what color segment you land on. If you're lucky enough to land on the solitary white segment, you'll be playing to become an instant millionaire!
If you have ever played the original Isis game, this is the exact same, except with the addition of the Mega Moolah progressive jackpot. There are other Mega Moolah games out there as well, but if you are one that enjoys the ancient Egyptian themed games, or even if you liked playing the original one, then this Mega Moolah Isis video slot is sure to be one of the best and most enjoyable that you play.