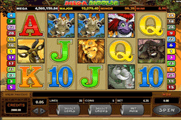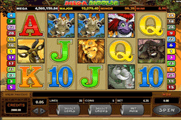 Mega Moolah features a variety of safari animals, like lions, zebras, elephants and wildebeest, scattered all across the five slots. Hit the right combination on any spin, and you just might win the biggest win of your life! It's not uncommon for these jackpots to go over the five million mark, and even better, it won't cost you a fortune to win. A massive progressive jackpot slots win was recently hit with a fifty-cent wager in Mega Moolah.  This game is one of the most popular progressive jackpots slots and players will soon see why.
This game features all of the standard five reel extras, including free spins and multipliers, which help you win just a little more money almost every time, and of course a bonus game and wilds. I don't really consider wilds as extras any more. They're almost expected, and there are so many more games that have them than ones that don't, and don't really give you a huge advantage like you may think.
The monkey acts as the scatter symbol in this game, which is very appropriate, since monkeys are notorious for causing all kinds of mischief. If you get two monkeys on any spin, it will trigger the scatter, and watch as the cause chaos on the reels! There are only 25 paylines on the progressive jackpot game, but that's really more than enough to win big. After all, even on a bad day the least that the jackpot can be is still over 10k!
Mega Moolah is without a doubt, one of the highest paying slot machines in the world of online gaming, courtesy of Microgaming. This is because the progressive jackpot of this game always passes the 1 million mark, and sometimes it eve passes the 2 million mark and more. This is why this slot machine has changed the life of many players who managed to trigger this jackpot. This progressive jackpot is connected to the Microgaming progressive network, which means that whenever a bet is placed on the game at any of the Microgaming casinos that have the game, the jackpot would increase. And due to the popularity and succeed of Microgaming powered casinos, the jackpot increases drastically with every passing minute. Although the game can't be spun for free because it is a progressive jackpot, players can still open the game, see its visuals, its game play options as well as its payout table in details right here.