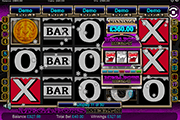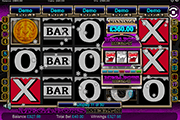 Mega Pots Mega-X Slot : Only 2 Symbols to Match as Payline Wins in a Multi-Features Grid
Mega Pots Mega-X is a 20-payline online slot by OpenBet in which only X Symbols and BAR icons occur as paying elements. Although an O character is present, it is a non-paying reel content. If judging by its chiefly red, black and white graphics alone, the game may seem dull and uninteresting, Yet this game gained popularity at land based gambling betting joints in light of its multi-features grid. Five (5) locally grown Progressive Jackpots and several win-boosting elements may occur via any spin.
Groupings of 3 or more alike symbols can create winning combis in any position. Identical icons aligning in adjacent positions of a payline, whether starting from the leftmost, rightmost or middle reel, count as wins. Await the emergence of a Mini Slot Machine image as a single icon in view unlocks a mini 3-reel slot game. Such an occurrence may lead to a round of 7 free plays on a mini-slot machine. Another element to anticipate is the Gold Coin, which when appearing in 3s or more, sets off a Pick Bonus Game.


Between the two symbols, the BAR icon awards higher pays. Three, four, or five BARs aligned in consecutive payline positions, award coin credits of 200, 400, or 1000, respectively. Still, the X Symbol, which comes into view frequently, can bring in coin wins of 20, 40 or 200, correspondingly.
To boost chances of striking wins via those symbols, two elements may appear during a reel-spinning session:
The Golden Bar Symbol – This icon may take position in any reel, and then pose as Wild Card; but only for the regular BAR totem. More importantly, the Golden Bar comes with a 2x Multiplier that doubles the reward of a related BAR win.
Mega-X and Mega Bar Symbols are the colossal 2×2 Mega versions of the BAR and X icons. Mega Symbols come into view, either partially or entirely. Nonetheless, any visible segment of a Mega-X or Mega Bar Symbol completes a win if aligned with a match within a payline.
Mega Pots Mega-X Online Slot: Progressive Jackpots
Take notice of the Jackpot totems on display above each reel. Each reel holds a seed money that grows progressively, albeit locally. Increments come from a portion of every bet wagered on the Mega Pots Mega-X slot during a playing session. The amounts accumulated in each reel represent the Progressive Jackpots that can be won via the Mini Slot Machine Game.
Mega Pots Mega-X Online Slot: Mini Slot Machine Game
A reel may return after a spin, with a Slot Machine icon in place. The event unlocks a miniature 3-reel Slot Machine that initially awards one (1) Free-Spin. If that spin results to a win, the 3-reel play continues via 7 free-spins. Otherwise, the game immediately resumes with regular 5-reel Mega Pots Mega-X play.
During the 7 mini-slot free spins, hope to land on 3 Pot images on the win line. Such occurrences trigger the awarding of the Jackpot Money held by the reel, in which the Slot Machine icon appeared.
By the way, the 3-reel Mini Slot has a separate Paytable. One-of-a-kind Number 7 variants, or even a combination of the Red, White and Blue 7s, has corresponding coin rewards. The current Total Bet that triggered the Mini-Slot Free Spins multiplies the coin prize won via payline wins.
Mega Pots Mega-X Online Slot: Pick a Coin Bonus Game
This random feature sets off whenever three or more Gold Coin totems are in view. A guaranteed bonus win can be collected by simply choosing any of the Gold Coins currently on display. The Multiplier revealed by the Gold Coin selected will then multiply the current Total Bet, and the equivalent cash value awarded as instant bonus win.