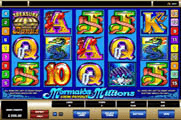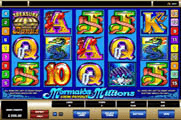 Mermaids Millions is a fun under the sea themed slot game from Microgaming. This particular game has five reels, a modest 15 pay lines, and every kind of bonus you could ask for in a video slot, except for a progressive jackpot. Let's face it though-there just aren't a lot of progressive jackpots out there, and they can be very stressful to play.
Mermaids Millions really give a very relaxed feel to the game play. The pay lines are easy to work out, and there are only a few of them. The graphics and sound effects aren't overly bright or annoying, and really fit with the theme. My favorite part about this game though has to be the clarity of all of it. I've played dozens of different video slots, and I can never keep straight just which icon is what special feature. I always think I hit just what I need for the bonus game and get excited, and am usually wrong. The paytable of the game gives players a great idea on what they can expect from this exciting game by showing them all of the different symbols, the prizes that they can claim as well as all of the special icons and feature of the game, along with the progressive jackpot, and how to trigger it, which is surely something all players dream of doing.
This game tells you what the special pieces are. Not just in the pay grid, but on the icon itself. The Scatter symbol, which is the mermaid, says 'scatter' across the bottom. Poseidon, the Wild symbol, says 'wild'. Can you guess what the Bonus icon says? Pretty close guess if you said 'bonus'. It's actually a treasure chest that says 'treasure' across the top and 'bonus' across the bottom. Just in case you didn't know what a treasure chest looked like. I found myself glued to the screen playing this game, and before long my account had increased significantly. I hope the same happens for you!
If all of this have intrigued you and encouraged you to play the game and see what it has for you, you can do that right here for fun, check its visuals, its gaming quality, the game play options and all what the game has to offer for you. Then you can go try your luck with real cash at any of the Microgaming powered online casinos that offer the game with real cash.