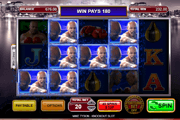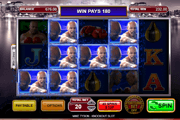 Mike Tyson Knockout Slot: Super Stacked Symbols, Super Bonus Spin, Mystery Symbols, Free-Spins wtih Multiplier
Mike Tyson Knockout Slot is a 20-payline online casino game that pays tribute to Iron Mike, the youngest boxing professional to earn the World Heavyweight Boxing Championship. Game provider Inspired Studio showcases Tyson's illustrious boxing career by using actual clips of Iron Mike in action.
Occasionally, Iron Mike appears on screen to throw a knockout punch that activates one of two (2) reel modifiers; the Super Stack Bonus or the Super Bonus Spin. Those random features greatly increase chances of landing on multiple payline rewards, or of triggering the Free-Spins Round. Activating the free games is definitely a boon, as a Win-Multiplier of up to 10x, and as many as 12 free-spins could bring awesome bonus rewards.


The Mike Tyson Logo is the highest paying, awarding 40, 80, or 500 credits on a 3, 4, or 5-symbol payline win. The image of Iron Mike with an Opponent awards 30, 60, or 240 credits, while the Mike Tyson with Red Gloves awards 20, 50, or 100 credits, respectively. Those images and that of the Wild icons are structured as Stacked Symbols, making it feasible for players to win those generous payouts.
Mike Tyson Knockout Slot: Mystery Symbol
Pay attention to the Golden Boxing Bell. Thrtotem serves as Mystery Symbol that transforms into a randomly generated icon. All Boxing Bells in view after a spin, becomes a set of identical images within a reel, and possibly in more than one reel.
Mike Tyson Knockout Slot: Reel Modifiers
Aside from the Mystery Symbols that automatically change the contents of a reel in which they appear, two (2) random features occur to modify the outcomes of an upcoming spin.
The Super Stack Bonus – This feature ensures that in the next spin, the reels will return with identical Stacked Symbols.
The Super Bonus Spin – This feature powers up the reels by increasing the number of Bonus Symbols that will appear as outcome of the next spin.
Mike Tyson Knockout Slot: Free-Spins Knockout Bonus Round
Triggering the Free-Spins Round requires a combination of two (2) icons: a Bonus Symbol and the Knockout icon. The latter has three versions, Knockout 1, Knockout 2 and Knockout 3. A winning Knockout Bonus combination comprises two (2) Bonus Symbols and any one of the Knockout 1, 2, or 3 variants. Those numerals are significant as they determine the number of offers extended to a bonus game player.
Knockout Offer – A Knockout Offer is a set of Free-Spins and a Win-Multiplier randomly generated by the Knockout Boxing Ring. Knockout 1 is equal to one (1) offer. That being the case, bonus game players have no other option but to accept the number of free-spins and multiplier offered as Knockout Bonus Game.
Knockout 2 or 3 therefore is good for 2 or 3 offers. A Mike Tyson Knockout Slot player may accept or pass up an offer if he or she wishes to vie for greater numbers of bonus spins and Multiplier.
Free-Spins offers are 6, 8, 10 or 12, while Win-Multiplier offers are x2, x3, x5, or x10. Once a player accepts an offer, the game proceeds to the bonus-round proper.
Mike Tyson Knockout Slot: Fortune Bet Option
Fortune Bets are higher Total Bet options that can improve chances of striking a Knockout Bonus combination. Games running on Fortune Bets use larger-sized Bonus Symbols that readily furnish the two (2) units required by a Knockout Bonus combo.