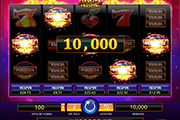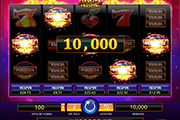 Million Coins Respin Online Slot: Control Outcomes via Individual Reel-Respin Feature
Million Coins Respin is an iSoftbet 20-payline online slot that allows players to control spin outcomes by way of individual reel respins. The feature though comes with an additional price; indicated at the bottom of each reel. Nonetheless, spinning reels strategically may prove helpful in maximising one's bankroll; as well as in boosting chances of hitting higher paying combinations.
Although the highest paying element is the FORTUNE icon, tiles containing 10, 0, and 00, can bring players the promised 1,000,000 coins. If after a regular spin those tiles occur as outcomes, the event poses as the best time to respin selected reels methodically and purposefully. However, the 1000, 10000, 100,000 or 1,000,000 Ultra Win prizes are available, only on 100.00 Max Bet plays.


While vying for Ultra Win combinations, other reel elements may organise as payline wins as well. The FORTUNE icon for one, correspondingly awards 100, 500, 1000, or 10,000 coin credits; on 2, 3, 4 or 5 that converge, starting from the leftmost column. The Fiery 7 and the Red 7 also award top pays and may create a mixed winning arrangement. The same is true with the BAR, BAR-BAR and BAR-BAR-BAR icons.
Million Coins Respin Online Slot: Wild Symbol
Wild emblems may appear in any reel. Aside from having capability to represent regular icon, Wild Symbols can also form winning arrangements. Actually, Wild combis consisting of 2, 3, 4 or 5, awards the highest range of payouts: 25, 250, 2500, 25000 or 50000, respectively.
A Wild emblem though cannot represent the 10, 00, and 0 elements, for purposes of organising an Ultra Win combination.
Million Coins Respin Online Slot: Ultra Win Feature
The 10, 00 and 0 elements land on reels when spins launch via 100.00 Max Bets. The 10 icon naturally lands on the first reel. When emerging on its own, a 10 coin-win is awarded. If combining with 0 in Reels 2, 3, and 4, and 00 in Reel 5, an arrangement accordingly pays Ultra Wins as follows:
Ultra Win Combinations and Payouts in Paylines 1 to 20:
• 10 + 0 = 100.00
• 10 + 0 + 0 = 1,000.00
• 10 + 0 + 0 + 0 = 10,000.00
• 10 + 0 + 0 + 0 + 0 = 100,000.00
The 10 + 0 + 0 + 0 + 00 combination pays only 100,000.00 if converging in paying lines 2 to 20, Yet, if the same arrangement falls on Payline 1, the ultimate 1,000,000.00 Ultra Win, will be awarded.
Million Coins Respin Online Slot: Betting Options
Wagers per spin can be configured by choosing a Coin Value and a specific Number of Coins to stake per payline. Coin Value choices range from 0.01 to 1.00. Those values increase if a player chooses to place more than one coin per line, up to a maximum of 5 coins.
Configuring a Bet per spin with a single 0.01 Coin Value equates to a minimum cost of 0.20 (0.01 x 20 paylines). On the other hand, the 100.00 Max Bet that activates the Ultra Win feature, constitutes a 1.00 Coin Value multiplied by 5 Coins and by 20 paylines.