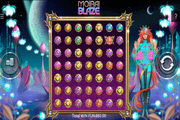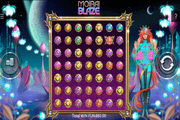 Moirai Blaze Online Slot: Blaze of Tumble Wins Can Lead to Free-Spins Bonus Round
Moirai Blaze online slot by Iron Dog Studio is an icon-matching game that pays on 5 or more alike symbols forming a cluster. Easy-peasy challenge, as the matching activities are not restricted by paylines or pay patterns. On top of the flexible rules are special elements that randomly appear to increase the number of wins occurring via a single drop. Aside from a Wild Symbol, special tokens such as a Replacer and/or an Exploder may appear.
Here, 7 reels roll and drop a batch of 7 rows of different colourful gem charms. When 5 or more identical Charms drop and align vertically, horizontally or both ways in adjacent positions, a so called Tumble Win is achieved. Winning icons will then disappear, creating openings that will allow symbols from above to drop and fill gaps. Players collect additional winnings If the new set of elements result to more Tumble Wins. Since winnings symbols disappear on every Tumble Win, payouts may increase indefinitely; especially if a chain of Tumble Wins lead to a round of free games.
The Moirai Goddess standing next to the grid tabulates the number of icons disappearing on every Tumble Win. Hitting a total of 25, 50 or more unlocks either a REPLACER or an EXPLODER Symbol. All the more boosting chances of achieving a blaze of Tumble Wins. If the disappearing symbols reach a total of 100, the game advances to a Free Round.


Moirai Blaze Online Slot: Special Symbols
During base and bonus game rolls, the following butterfly-like tokens may appear:
Wild Symbol – This is a reddish-pink Charm embellished with a Gold Star that may appear in any reel. If it lands next to a group of alike Charms, it can complete or expand a Tumble Win.
The Exploder Symbol – comes with a yellow-gold hue and likewise embellished with a Star at the center. The Moirai Goddess unlocks this icon and places one on the grid, if the number of Tumble Win symbols reached a total of 25 or more. Once in place, the Exploder Symbol destroys all symbols aligned in a diagonal line or in 2 crossing diagonal lines. In some instance the Exploder simply destroys all cells of a random icon currently on display. After which, a Wild Symbol will replace the Exploder token.
The Replacer Symbol looks like a Wild Charm but one without a Gold Star at the center. This special element replaces, rather than destroy all symbols along crossing lines or in a diagonal formation; or select an icon to replace in all cells. The image installed as replacement is a random pick but usually, one that has potential to hit multi Tumble Wins. A total of 50 or more Tumble Win Symbols, activates this powerful token,
In Moirai Blaze free rounds, active Replacer Symbols always install Wilds as replacements.
As soon as the Moirai Goddess displays 100 or more, as total number of symbols hit during a chain of Tumble Wins, she will unlock the Moirai Blaze Bonus Round.
Moirai Blaze Free Games Feature
Fifteen (15) free reel rolls transpire during a bonus round, with all 3 special symbols occurring accordingly. Except here, all special icons appearing during the round count as Collectable Symbols. A tabulation panel on the left side of the screen keeps track of the numbers collected for each token.
On the 15th and final Free Roll, aĺl special symbols collected during the bonus bout will return to the reels. Each powerful token will then carry out their respective win-boosting action, in order to make the last spin as highly rewarding as possible.
Additionally, a Moirai Blaze Free Round may also randomly produce another special icon called the Ganesha Powerball.
Ganesha Powerball – This is a random feature that initialises with the emergence of an overlay Ganesha idol. Following its appearance is a respin, which carries on by supplementing the reels with a new set of icons. If the fresh batch of reel elements result to Tumble Wins, additional win events occurring thereafter will increase the natural 1x Multiplier by one (1).