User Rating: Be the first one!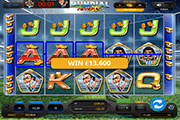 Mondial Fever Online Slot: Join the World Football Championship Hype and Collect Special Bonuses
Mondial Fever is a 15-payline online slot celebrating the annual FIFA Championship event. Presented by way of cartoon graphics, football teams from Germany, Italy, Brazil and Argentina, meet as contenders for a slot World Championship title. Overseeing the game is Mr. Fair, the Referee. He can represent any of the four (4) athletes dubbed as Super Symbols by Oryx Gaming.
Players select a team to support, by picking one (1) from out of the four (4) Super Symbols presented at the onset of the game. When the play advances to the free round, the team selected will compete with a randomly determined opponent. If at the end of the free-spins round, the chosen Super Symbol attains a higher score than the opponent, a special Bonus Prize will be awarded as additional reward.
Meet the German Gunman, the Italian Master, the Brazilian Joker and the Argentinean Devil; all Super Symbols that share a common range of Paytable Values. A 3, 4 or 5–of-a-kind grouping of their icons in any payline, garners 5, 30, 250, or 1000 coin credits. However, when playing as a competing Super Symbol in the Final Countdown Free-Spins, a slight modification to 5, 25, 100, or 1000 credits, apply.
Mondial Fever Online Slot: Special Bonuses
Collect special bonuses by way of the Stadium and the commemorative Soccer Ball images. Their occurrence in specific numbers is enough to unlock a special prize.
Stadium Symbol -Promote the Stadium of Glory by landing on 3, 4 or 5 of the Stadium image anywhere across the playing field. Such an event triggers the awarding of a corresponding Sponsor Bonus Prize.
Depending on the number of Stadium Symbols involved in garnering the reward, a 1x, 2x or 5x Multiplier will increase the Sponsor Bonus. .
Commemorative Soccer Ball – This icon awards a cash prize equal to 2, 10, 25 or 100 x the Total Bet, when 2 3, 4 or 5 turn up as scattered outcomes of a spin.
Mondial Fever Online Slot: Wild Symbol
Get to know the referee Mr. Fair, as he poses as a Wild card; but only for the four (4) Super Symbols. The Referee Wild though, takes positions only in Reels 2, 3, and/or 4.
If his payline alignment with one-of-a-kind Super Symbols completes a winning combo, the Referee Wild applies a Wild-Win 2x Multiplier. Two (2) or three (3) Mr. Fair Wilds involved in completing a Super Symbol win is better. In such cases, the related payout increases by 4x or 6x, respectively.
Mondial Fever Online Slot: Final Countdown Free-Spins Round
A group of 3, 4 or 5 Championship Trophy symbols, consecutively positioned anywhere across the playing field, sets off the Final Countdown Free-Spins.
Here, the handpicked Team and a randomly selected opponent, compete by setting the highest Goal Score. Every payline win delivered by a contender is a Goal Score. That being the case, the final tally displayed at the top of the reel, decides if an Extra Bonus will be awarded at the end of the free bout. If the chosen team emerges as victor, this Final Countdown Feature will award an additional Bonus Prize.
Free Games Choices
A participating player must first select a strategy from an array of choices presented at the start of the bonus round. Each Strategy determines the duration of the free bout and the value of an All-Win Multiplier, as follows:
Aggressive rolls out 10 free spins in a single bout, whilst applying a x4 Multiplier to increase bonus wins.
Moderate – The Final Countdown carries on with 20 Free-Spins and a x2 All-Win Multiplier
Defensive – This strategy does not offer a Multiplier Value, but plays on with as many as 40 Free-Spins.
If another set of Championship Trophy icons emerge during the round, the bonus game extends with the original number of free games and Win Multiplier, if any.
Mondial Fever : Free-Play Wins, Scatter Rewards and Special Bonus Prizes
Mondial Fever online slot presents a betting game from which players can win numerous rewards. This football-themed game awards not only Free-Spin Wins but also bestows an Extra Bonus if a chosen team emerges as Top Scorer. It also pays on a scattering of Commemorative Soccer Ball icons, and awards a special Sponsor Bonus Prize that may increase to 2x or 5x.