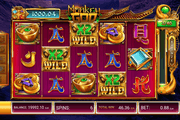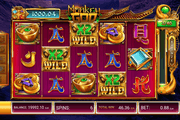 Monkey God Online Slot: So Many Features, So Many Win Opportunities
Monkey God online slot by Oryx Gaming presents a colourful assembly of Asian- inspired images. On lucky random spins, some may land as winning combis conforming to any of 243 pay ways. Matched alignments need only to organise in contiguous reels from the leftmost column onward. The flexible icon-matching mechanics combines with several features aimed at boosting chances of reaping exceptional returns.
First off, players have the option to upgrade top paying icons into Gold Symbols. The latter not only brings higher payouts. Playing with more Gold elements also increases opportunities for winning the game's Progressive Jackpot. Awesome even is that Wild Symbols are Gold icons by disposition. In fact, Wilds may come with a 2x or 3x Multiplier. They not only equate to higher winnings, Wilds with Multiplier have greater Gold Symbol count; 2 Gold Symbols on a 2x Wild, 3 on a 3x Wild.
Aside from a round of Free-Spins, this Monkey God online slot also awards Bonus Spins by way of a Koi Collection Feature. Bonus Spins play on a special grid containing only Koi images. Resulting prizes are then based on the number of Kois landed during the brief bonus bout.


Monkey God : Gold Symbols and Progressive Jackpot
There are four (4) high paying symbols, namely the Blue Gem, the Lucky Coins, the Sycee or Chinese Ingot and the Red Lantern. The Blue Gem is a natural Gold Symbol, while the rest are ordinarily categorised as Silver Symbols. Gold Symbol upgrades therefore pertain only to the Lucky Coins, the Sycee and the Red Lantern.
Gold Symbol Upgrades and Betting Mechanics
Decisions to play with Gold Upgraded Symbols are made when choosing a value to stake as Bet per spin. A minimum 0.38 Bet per spin, covering all Win Ways, has 1 Gold Symbol (Blue Gem) in play. Through this option, only the Blue Gem has potential for garnering pays at the Progressive Prize Level.
A player may choose to upgrade the Silver Lucky Coins in order to increase the number of Gold Symbols in play. Further increases in number of Gold Symbols to 3 or 4, entail upgrading the Silver Sycee and the Silver/Red Lantern in that particular order. To each upgraded level, an additional cost, pegged at 53%, 79% or 132% of the Level 1 Bet, will be added.
A 0.38 Level 1 Bet (1 Gold Symbol) will increase to 0.58 ( 2 Gold Symbols), to 0.68 (3 Gold Symbols) or to 0.88 ( 4 Gold Symbols.)
Gold Symbol Progressive Jackpot
A spin outcome displaying 15 or more Gold Symbols (including Wilds), will earn players the right to collect the Monkey God Progressive Jackpot. The box located at the top left side of the slot screen, shows the current amount accumulated as prize money.
When a spin produces 3 or more Gold Symbols of any type, the prize money increases by 0.01.
Monkey God Online Slot: Koi Collection Feature
Once in a while, Gold Kois emerge as outcomes of any reel. Such occurrences count in completing a Koi Collection mission offered in 4 Levels: Bronze, Silver, Gold and Platinum. To each level, a specific number of Koi icons must be collected; 40, 60, 100 and 140, respectively.
Once a level collection is complete, players are given the option to play a minimum of 3 Bonus Spins, or to collect more Koi icons. Choosing the latter means vying for higher Bonus Spin Prizes via higher Collection Levels.
Bonus Spin Payouts depend on the number of Koi icons transpiring as outcomes of all Bonus Spins. A level-related Koi Paytable displays the rewards pertaining to specific numbers of Koi outcomes.
During the brief bonus bout, a special Amethyst Gemstone may appear and award an additional Bonus Spin.
Monkey God Free Games
A unique Monkey God image posing as Bonus Symbol, sets off 10 Free Games if 3 or more are simultaneously in view. If during a free round, 2 or 3 Bonus Symbols emerge concurrently, the bonus round extends with a corresponding set of 3 or 10 Extra Free-Spins.
Aside from the regular Wild and the 2x Wild Symbols, Monkey God Free Spins may also come up with a 3x Wild. Winning combinations that include a 2x or 3x Wild as completing component, will therefore garner doubled or tripled pays.