User Rating: Be the first one!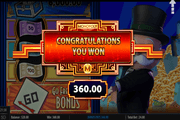 Monopoly: Big Money Reel Online Slot – Cash Note Icons Bring Big Money Wins!
Monopoly: Big Money Reel online slot by WMS/SG Interactive presents a fresh take on the Monopoly Game theme. Here, Cash Notes in 5 different denominations create valuable impact when converging as Scatter Combo, or when Mr. MONOPOLY adds a single Note at random. Initially, the cash values appear as mini icons affixed to any symbol. They enlarge as full-tile icons only if they complete a winning scatter arrangement.
A scattering of five (5) or more Cash Notes, regardless of denomination, is a winning combination. Such an event initialises loading of the Monopoly: Big Money Reel Spin Feature. Players will then have a chance to collect either a Cash Prize or activate one of 2 Bonus Games: the Utility Bonus Pick Game or the Go Free-Spins Round. Both Bonus Games are certain to reward players with supplementary winnings for the spin that triggered the Big Money Reel.
Another event to anticipate is the Mystery Bills feature initiated by Mr. MONOPOLY's on-screen appearance. At that random point, one of 2 occurrences may happen: the array of Bills in view may change into a uniform denomination; or the grid may fill with one type of Cash Note.
Monopoly: Big Money Reel Online Slot: Special Symbols
Special Symbols are those that possess exclusive attributes, which when occurring, increase chances of hitting big returns.
Wild Symbol – The glittery uppercase M is special as it represents the joker card. As such, it can complete or expand, winning combos of alike elements aligned in the same payline. The M Wild though cannot represent any of the five Cash Note Values: 20.00, 50.00, 100.00, 200.00 or 500.00.
Cash Notes – Consider these elements as Scatter Symbols because they can form a winning combination, irrespective of payline positions.
The Notes though, have no specific payout values. Yet when five or more random symbols with Cash Notes in tow, emerge via a single spin, the Monopoly: Big Money Reel activates. Take note of the Multipliers yielded by each Cash Note denomination. The multiplier applies to the values assigned as payouts of each denomination in the Big Money Reel.
Monopoly: Big Money Reel Feature
In this feature, Mr. MONOPOLY awards a spin of the Big Money Reel containing Cash Bonuses, and labels of 2 Bonus Games: the Utility Bonus and the Go Free-Spins.
Cash Bonuses
Each Cash Note denomination is represented in the Big Money Reel, along with their respective payout value. Remember the Multipliers that appeared on each denomination at point of activation? The Big Money Reel will use the corresponding Multipliers to increase the payout value of the related 20.00, 50.00, 100.00, 200.00 and 500.00 symbols.
If the prize indicator stops on any of those elements, the corresponding Payout already boosted by the Multiplier, will be awarded.
Utility Bonus
At the onset of the game, qualifying players instantly receive a bankroll that is equivalent to 50x the value of the current Line Bet. After which, players have to take a Pick between Mr. MONOPOLY's left and right hand. The hand selected may reveal one of 3 Prompts: SPIN, COLLECT or COLLECT x2.
This feature makes use of a different Big Money Reel, as it contains Electricity and Water Utility icons in displaying either a cash value or a Multiplier. The Multiplier increases the value of the bankroll awarded as initial bonus
The SPIN prompt will give participating players a chance to collect any of the rewards indicated by Utility Symbols. After adding the value to the bankroll, the game continues with another Pick of Mr. MONOPOLY's hands. Players will have extra opportunities of increasing their bankroll, if they keep picking the hand that reveals the SPIN prompt.
Now if a Pick reveals the COLLECT prompt, it follows that the Utility Bonus Feature ends by awarding the current value of a player's bankroll. In case a Pick unravels the COLLECTx2, the bonus feature also ends, but doubles the bankroll value awarded as bonus prize.
Go Free-Spins Bonus
This feature awards 8 Free Games in which only one Cash Note denomination will appear as outcomes of a bonus spin. The game therefore randomly picks a denomination to feature as solo Cash Note Symbol of the free round.
This time, the denomination matters as it will serve as basis in determining the payout value of each Cash Note occurrence. Indicating that a 20, 50, 100, 200 or 500 factor, whichever is applicable, multiplies the current Line Bet. The equivalent payout value will then be awarded on every Cash Note occurring as outcomes of bonus spins.
The bonus game grid also releases a Go Extra Spin icon that can extend the bonus bout, as well as award a Scatter pay, if 3 or more are simultaneously in view.
Monopoly: Big Money Reel - Mr. MONOPOLY's Big Bonus Event Awards Guaranteed Awesome Prizes
Monopoly: Big Money Reel online slot continues to delight players with guaranteed awesome cash prizes. Mr. MONOPOLY the popular game board host, conducts a big win bonus event by way of a Big Money Reel. A spin of the huge contraption may result to awarding of a cash prize, or entry to a Pick Bonus Game or Free-Spins Round; any of which, is certain to reward players with noteworthy cash bonuses.