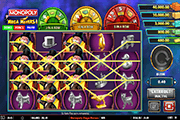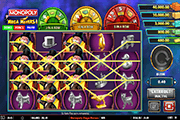 Monopoly Mega Movers : Online Slot with Expanding Wilds plus Bonus Wheel Rewards!
Monopoly Mega Movers online slot is the latest addition to WMS/Scientific Game's Monopoly-themed contents. The Expanding Wilds demonstrate the movement-theme, as they extend to one or more adjacent reels. The most significant progress transpires when one of three (3) Bonus Wheels activate. A spin of the featured wheel may advance the game to the Free-Spins Board. If not, it may award Additional Wilds or one of five (5) Jackpots.
To give players extra opportunities of reaping greater rewards from the Bonus Wheel prizes, Monopoly Mega Movers offers an Extra Bet wagering option. At an additional cost pegged at 50% of a preferred Standard Bet, the numbers of Additional Wilds and Free-Spins in store increase up to 12 and 100, respectively. Still, whether played with Standard or Extra Bets, chances of moving the game to higher levels are at par. Activation of the Bonus Wheel feature, depends on a special Background and of the Background's occurrence as outcome of any spin.


Monopoly Mega Movers Online Slot: Wild Symbol and Expanding Feature
A straightforward Wild Emblem represents the reel element that can substitute for any icon. During regular play, Wild Symbols emerge only in Reels 2, 3, and 4. Nonetheless, some Wild Symbols may take positions in Reels 1 and/or 5; but only if Wilds come with an Arrow Symbol that will permit them to do so.
Expanding Wild is a wild card that displays an Arrow on any of four sides. Once in view, this type of Wild replicates on the adjacent position to which the attached Arrow points.
It is possible to land on Expanding Wilds with more than one Arrow Symbol, or to land on more than one Expanding Wild. This denotes that multiple substitute symbols may occur in stacks, or in consecutive columns, in ways that can form a winning Wild combination.
Three, four, or five Wild Emblems aligned consecutively and in conformity with a pay diagram, award 0.5x, 1.5x, or 5x the Total Bet.
Monopoly Mega Movers Online Slot: Special Background Feature
Take notice that images generally appear against a purple backdrop, while some are set against a bluish background. That particular Background Feature, if aligning consecutively in a single row regardless of where the line up commences, is eventful.
Three, four, or five Bluish Backgrounds even if displaying different icons, activate a corresponding Bonus Wheel, aptly labeled as 3-in-a-Row, 4-in-a-Row, or 5-in-a-Row.
Monopoly Mega Movers Online Slot: Bonus Wheels
In each instance when one of three (3) Bonus Wheels becomes active, any of the following prizes may be won:
Bonus Wheel Upgrade – If the Wheel Pointer lands on an Arrow-Up Symbol, a spin of the next-level Bonus Wheel will be awarded. It follows that a 3-in-a-Row Wheel spin will advance to a 4-in-a-Row Wheel play. In the same way that a 4-in-a-Row Wheel spin, may continue with a 5-in-a-Row turn.
The 5-in-a-Row Bonus Wheel does not contain an Upgrade Prize Wedge, being the highest level of the Bonus Wheel Feature.
Random Wilds – A Wild Prize wedge awards additional Wild symbols in numbers that depend on the Bonus Wheel in play. The type of Bet (Standard or Extra) that triggered the Bonus Wheel activation, also determines the quantity of Wilds in store.
Free-Spins – Similar to the Wild Prize Wedges, Bonus Wheels award different numbers of Free-Spins. Standard Bets may earn players 5 up to 50 Free-Spins, while Extra Bets can garner seven (7) Free Spins at the least, or 100 Free-Spins at the most.
Monopoly Mega Movers Jackpots – Five (5) Jackpots are at stake, but their availability likewise depends on the type of Bonus Wheel in play. The 3-in-a-Row Wheel is capable of awarding only the Mini and Minor Jackpots, while the 4-in-a-Row Wheel may award either the Minor or Major Jackpot. The remaining 5-in-a Row Wheel, presents a chance to win either the Major Prize or the ultimate Grand Jackpot.