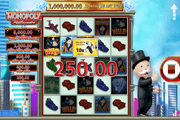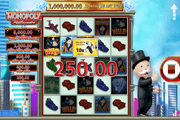 Monopoly Millionaire Online Slot: Collect Cash or Trigger a Free Round via Big Wheel Bonus
Monopoly Millionaire online slot is Bally's latest addition to Scientific Games' collection of Monopoly-themed titles. This new edition aligns its Free-Spins bonus features with the Utility Companies, such as the Railroad Bonus and the Electric Company Bonus. Both bonus games have extra features that award instant cash prizes, win-multipliers, or extra Free-Spins. Unlocking any of those bonus rounds though is somewhat challenging since players have to unlock the Big Wheel Bonus first.
Nonetheless, the Big Wheel Bonus has other prizes to offer via different game formats; using the "Free Parking" and "Go to Jail" features of the board game. Both of which are certain to award easy money, by way of a Pick or Dice Roll Game. The "Free Parking Pick Game" is the most exciting, as this gives players a chance to win one of 5 Jackpots at stake.
Now if you're hoping to become an instant Monopoly Millionaire, call on your lucky stars because the 1,000,000.00 Cash Prize can be won only by chance. Any random spin may release the 1 Million cash prize without any condition.
Base Games have their own arbitrary set of win-boosting features to award, via Chance or Mystery Symbols and Community Chest Cards. Mr. Monopoly's Wild Symbol is in fact a base game exclusive. Aside from having the capability to represent other elements except for the Big Wheel Bonus icon, Mr. Monopoly Wilds can also organize into a winning combination.

Hitting a payline win by way of Wilds garners a payout similar to the ones awarded by the highest paying Diamond Symbol. A one-of-a-kind alignment of 3, 4, or 5 Wilds or Diamond Symbols, respectively yields a cash reward equal to 20x, 50x or 100x the Coin Bet.
Monopoly Millionaire Online Slot: Random Base Game Bonus Features
During base plays, any of 2 random bonus features may transpire Mystery and Chance Symbols or the Community Chest Pick Game.
Mystery and Chance Symbols are akin to traditional Mystery Symbol win-boosters. Both icons reveal a single type of icon. Since they come in 2 different color motifs, two sets of identical icons may emerge as win-boosting, easy-to-match elements. Mystery and Chance Symbols also appear in the Railroad Free-Spins Games.
Community Chest Bonus comes in the form of a win-multiplier that will increase winnings generated by the related spin. Three (3) Community Chest Cards will be presented as pick choices that reveal a 2x, 3x, 5x or 10x Win-Multiplier.
Monopoly Millionaire Online Slot: Big Wheel Bonus
Bonus Symbols needed to unlock the Big Wheel Bonus feature emerge only in Reels 1, 3, and 5. They are not Scatter elements because they must appear simultaneously as the 1st, 13th, and 25th symbols in the grid. If they do, the Big Wheel Bonus unlocks and awards a single spin.
A spin of the Big Wheel Bonus may award an instant Cash Prize or one of the following Bonus Games:
Electric Company Bonus Round
This bonus feature awards 10 Free-Spins.Here, when a Switch icon appears in the 25th grid position, all Lamp images in view will reveal and award instant cash bonuses. The cash values may be anywhere between 50x and 1000x the Coin Bet.
If a 2+ sign lands on the 25th grid position, the round extends with 2 Extra Free-Spins.
Railroad Bonus
In this bonus round, 8 Free-Spins roll out while a train simulation passes through above the grid. Once the reels stop spinning the train also stops moving. The segment on which the Train stopped awards either an instant cash prize anywhere between 1x and 5x the Total Bet; or a 2x up to 10x Win-Multiplier that is applicable to the related spin.
Free Parking
A Pick Bonus Game in which 25 Red Monopoly Cars are presented as Pick Choices. Participating Monopoly Millionaire players will then choose 5. Car icons may reveal either instant cash prizes with values ranging between 1x and 7x the Total Bet; or Jackpot Symbols.
Revealing 1, 2, 3, 4, or 5 Jackpot Symbols correspondingly draws a Jackpot worth 10x, 20x, 40x, 100x, or 400x the Total Bet.
Go to Jail Bonus
This is a dice throwing game that awards a corresponding prize if a dice roll produces identical numbers. Qualifying Monopoly Millionaire players have 3 tries to land a double roll. Each additional attempt though diminishes the cash bonus at stake. If won on the first, second or third try, the cash value available as Go to Jail bonus is 75x, 25x or 10x the Total Bet, respectively.