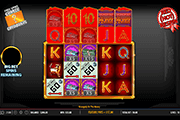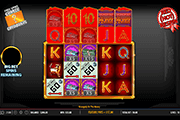 Monopoly on the Money : Hit Big Wins via Standard or Big Bet Spins
Monopoly on the Money is another sequel to the Hasbro branded slots created by Barcrest for the SG Interactive gaming platform. Playable via standard or Big Bet options, the game offers 10 paylines. Mr. Monopoly is a principal figure, but appears only during free rounds. When his image is in place, he collects all Multiplier icons in view, for purposes of awarding an instant bonus prize. The value of which, is equal to the sum of all factors collected, multiplied by the current Total Bet.
In order to have quicker access to the Free Round, place your money on Big Bet Spins. Big Bets activate a different set of game board. The reels may contain Sticky Go Signs, award a 2nd-chance Respin, include Chance Cards, or come with House or Hotel Extension. The features in play though depend on the Big Bet value used to launch a 5-spin play.


Monopoly on the Money Online Slot: Wild/Bonus Symbol
The Go Sign acts as both Wild Symbol and Bonus Game trigger icon. When it aligns with identical symbols in any payline, it can stand in as alternative icon to complete a win. if at the same time, three or more Go Symbols lie scattered across the game board, the Scatter grouping activates the Free Round. Three, four, or five Go Scatters set off 10, 15, 20 free-spins that could increase further via a Gamble Feature.
Monopoly on the Money: Free Games
The Free Round commences with a Gamble Feature. Qualifying players have the option to stake the their bonus spins on a gamble game for a chance to gain more free games. They can gamble until they hit the highest possible 25 Free-Spins Reward. However, there is also a possibility of ending up with none at all, in case a gamble spin lands on a "LOSE."
The Monopoly on the Money Free-Spins Round adds Mr. Monopoly icons as bonus reels elements. In a standard bonus game grid, two, three, four, or five of the symbol forming a payline win awards x10, x100, x500, or x2500 the Line Bet.
When hit with Big Bet Spins, a Mr. Monopoly payline win garners a payout equal to 200x, 200x, 1000x, or 5000 x Line Bet; based on the number of icons occurring as longest combo.
Mr. Monopoly Instant Bonus Prize – In addition to payline wins, the Mr. Monopoly icon awards an instant bonus prize. It collects all concurring Cash Multiplier outcomes. In a standard bonus round, the sum of all Multipliers collected multiplies the current Total Bet. If garnered via any Big Bet Spin, the Multiplier Total applies on a uniform BB Value of 2.00.
Monopoly on the Money: Big Bet Spins and Extra Win-Boosters
Barcrest's proprietary Big Bet content consists of betting options covering five (5) consecutive spins. BB options are 20.00, 30.00, 40.00, or 50.00 and come with Extra Win-Boosters. Keep in mind that the number of boosters added to the reels, depends on the Big Bet staked as wager:
Sticky Go Sign Symbols: – Available to all Big Bet Spins. Any Go Scatter that appears during the 5-spin play stays sticky. That way, BB players have increased chances of triggering a Free Round.
Red Hot Respins – This feature is available to 30.00, 40.00, or 50.00 BB Spins. If after the fifth BB Spin, only two sticky Go Scatters are in place, a second chance respin launches. if the latter produces the third Go Scatter trigger symbol, the BB play advances to the free round.
Chance Card Bonus – is also available to 30.00, 40.00, or 50.00 BB Spins. A set of 8 Chance Cards will be presented at the end of a free round. Any of the Chance Card selected may reveal a Cash Prize or Extra Free-Spins as Extra Bonus. However, a card may also reveal a "Free Spins Over" notice.
House Extension – This BB booster is exclusive to 40.00 Big Bet Spins only. The spins play on reels in which the Base and Bonus Game Reels come with an additional row of symbols. In the free round, any Mr. Monopoly and Cash Multipliers occurring on the House extension awards the related pays.
Hotel Extension is a BB Spin Booster exclusive to 50.00 Big Bets. The Base and Bonus Reels expand with two additional rows of symbols. Mr. Monopoly and Cash Multiplier icons landing on the Hotel Extensions pay automatically.