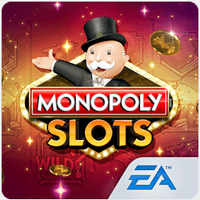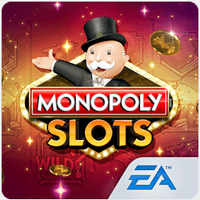 Monopoly Slots App : Casino-Style Slots by EA Inc.
Monopoly Slots is a free app containing Vegas-style slots. Developed and published by Electronic Arts (EA) Inc. as a mobile gambling game, the app is available via the Apple's iTunes App Store for iOS 6.0 and later versions. Users of iPhones and iPads can download and install the app free of charge.
Electronic Arts Inc is a company founded in 1982 by a man named Trip Hawkins. During the early 1980's, interactive games were largely considered to be a very new form of art and it's creators regarded as new age artists.
Monopoly Slots Game Features
The Monopoly Slots game app is designed to provide gaming and spin actions that lead to tournaments and of course lots of winnings.
The Monopoly Slots app game starts out with the "Easy Street", where app users begin to spin and see images of golden coins, houses and the Monopoly Man himself among others. Also illustrated are the racing horse, the thimble and Wild and Go cards.
Bonuses are gained by "GO" cards matching up and Mega Wins that can boost leveling up to ten times faster than normal and even faster on some wins. Leveling up can be achieved in as quick as two to three minutes.
On the first Monopoly Slots game level up, a player will unlock a level of 10 max bet options along with 50 dollars in gold coin winnings. The Monopoly Slots collectibles can be unlocked in the game. When a Big Win is achieved the Monopoly Man will make it rain on by throwing his coins in the air and showering them upon on players. The excitement continues as Free Spins become available in the next game level, in addition to another 50 gold coin bonus.
The sensational Monopoly Slots app has some very exciting new improvements. At the top of the list of many is the recently added Time Travel Slots. Here, a player can virtually experience time travel through different periods including The Ice Age level, Prehistoric Paradise and Empire Of The Sun levels.
Even better are the most recently added content such as the Big Win options, the Mystery and Stacked Wilds options, and more chance options to double or quadruple up.