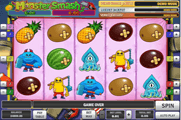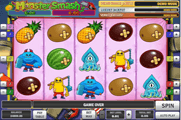 Monster Smash Slot Machine
Monster Smash by Play n Go is a high paying progressive jackpot game that has everything players might be looking for in an online slot machine. This includes great visuals, wonderful sounds, an amazing theme and a progressive jackpot. The game's theme is all about monsters, but these are not your usual scary and vicious monsters, as they are fuzzy, friendly and cute monsters who are here to give you great rewards. This is why all of the symbols and the game's visuals include many monsters.
Apart from the wonderful visuals that the game has that are inspired by monsters, the game comes with friendly and exciting sound effects that help players in getting engaged into the theme of the game fully, for a one of a kind gaming experience that one can only expect at Play n Go.
The best part about all of that, is that the game is offered to you right here or free with demo credits. It is only one of the many Play n Go powered games that we have here for all of our players.

Symbols and gaming Format
The gaming format is quite simple, as it has 5 spinning reels and 5 bet lines, like most Play n Go powered slot machine that comes with progressive jackpots. Speaking of the jackpots, the game has three of them. The first one is the Tasty Jackpot, then the Luxury Jackpot and the biggest and most rewarding one of them all, the Dream Chance Jackpot.
The symbols that are going to be landing on top of these liens and reels include the monsters that players will join during the game. These symbols include the potato monster, a green monster, a big blue monster, a squid monster, baseball bats as well as fruits such as pineapples, watermelons and more. All of the symbols come in cartoonish style, which is quiet fitting to the theme of the video slot machine.
BONUS FEATURES AND SYMBOLS
Since the game is powered by Play n Go, players can surely expect to find a great set of rewards and bonus features. For example, there is a scatter golden ring that would trigger the scatter payouts of the game. There are also the bonus wheels that can help players trigger massive rewards as well as the jackpots of the game. The Baseball bat can also help trigger the progressive jackpots when they appear on certain reels. Depending on their position, the triggered jackpot will be chosen.
There are also 5 different bonus games that can be triggered. More details about all of these pays and special feature can be viewed at the paytable of the slot