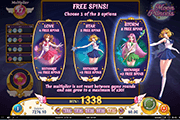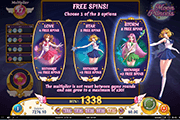 Moon Princess Online Slot: Win-Events Increase Multiplier; Continuous Progression During Free-Spins!
Moon Princess is a no-payline online slot by PlayNGo. Adjacent identical symbols need only to align in a row or column; i.e. horizontally or vertically anywhere in the 5×5 slot grid. Every win is eventful as this causes winning symbols to disappear, whilst those still in view drop. The dropping action increases the Win-Multiplier. Furthermore, nonstop Base Game dropping-actions spurred by successive wins, can clear the grid of all symbols. If that happens, the Free-Spins Round activates.
Aside from a Diamond Wild Symbol that helps players complete 3, 4, or 5 same-symbol groupings in a row or column. three (3) gorgeous Moon Princesses cast their special powers to change the outcome of a losing spin. During a special bonus game called the Princess Trinity, each character takes turn in using their ability to modify the outcome of any spin.


Moon Princess Online Slot: Progressive Win Multiplier
In a succession of win-events, the first payout comes with a natural 1x Multiplier, while initiating an increase to 2x. The second win then generates twice (2x) the related payout, and increases the multiplier to 3x as well. The cycle can continue for as long as the dropping actions result to a win, until it reaches the 20x maximum.
Once a dropping action ceases, the Multiplier Indicator resets to 1x. Except during the Moon Princess Free-Spins, which allows continuity of progression until the free round culminates.
Moon Princess Online Slot: Girl Power Feature
Each of the three featured princesses represents an element, which they demonstrate through their special power.
The Moon Princess in Pink is Love. Princess Love shows her affection by changing a set of symbol into a reel element that can successfully form a winning combination.
The Moon Princess in Blue is Star – Her magical power is as bright as the two (2) Diamond Wilds that she adds to the reels.
The Moon Princess in Green is Storm – Her power is more intense, as she triggers multiple dropping actions.. Princess Storm strikes the reels with bolts of green lightning, causing random symbols to disappear, and therefore result to multiple symbol-dropping occurrences.
The Girl Power Feature occurs randomly during base game spins, and after a losing spin. The Girl Power Feature changes with every spin; following a specific order: Princess Love, Princess Star, and lastly, Princess Storm.
The Girl Power Feature carries on differently during the Princess Trinity Bonus and in the Free-Spins Round.
Moon Princess Online Slot: Princess Trinity Feature
Winning arrangements comprising identical Princess images are significant. Every Princess Symbol that lands a win, charges up the Princess Trinity Meter located at the bottom left of the screen. Three, four, or five-symbol wins add 1, 2, or 3 charge levels, respectively.
However, Princess Wins must occur continuously. Otherwise, the Meter reverts to its empty stage.
The three Moon Princess characters will then take turns in modifying the outcome of a Princess Trinity Free-Spin. The Free-Spins Bonus Game though cannot be triggered during this feature.
Moon Princess Online Slot: Free Games
A single spin produces a set of 25 symbols in all. Since every win causes the winning symbols to disappear, the remaining icons cascade to lower reel positions. If it results to a fresh winning match, the disappearing/dropping actions continue. If by chance the cycle continues until all 25 elements have been taken out of the grid, the Moon Princess Free-Spins Round activates.
Players will then choose one of three (3) Bonus Game Modes. Each type features a single Moon Princess Girl Power, whilst awarding a specific number of free-spins.
Princess Love awards four (4) Free-Spins and can recharge the bonus reels with four (4) additional Free-Spins.
Princess Star bestows five (5) Free-Spins and possibly add three (3) Extra Spins.
Princess Storm grants up to eight (8) Free-Spins and can recharge the reels with two (2) more bonus spins.
During the free round, Multiplier Progression carries on from win to win, even if the win-events do not occur in succession.