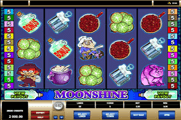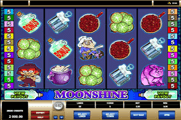 Moonshine Free Slots Review
While moonshine may generally mean a type of grain alcohol that is produced illegally, in this case, it's a fun five reel slots game by MicroGaming. This new take on Moonshine is a more legal version, and just like the real stuff, can be addicting and take a strong stomach to play for a long period of time. This game has several different images that you may associate with those who make moonshine. If you are not sure what exactly that is, let me give you an idea.
First, you have Granny in her rocking chair. She also is the wild symbol, and a very good character to have show up, especially if you get two or more. There's also some hillbilly looking characters, as well as ingredients for moonshine, but these are just filler symbols. What you really want to see is the half empty (or half full) bottles of moonshine. Three of these and you'll get to take a crack at the bonus game for free spins and a 4x multiplier. More details about all of the special icons of the game, the bonuses, the free spins and the multipliers can be checked out at any time during the game play as players open the payouts table of the game. They can open it at by clicking on the View Payout button that comes enclosed in a moonshine bottle.

Unlike reality, seeing the Sheriff show up on three or more of your reels is not necessarily a bad thing. In fact, this winning combination acts as a scatter symbol and may help you get a shot at the Bonus round or Free spins! Making moonshine has never been easier. You may actually find that you thoroughly enjoy it! As long as you stick to the slot game version then it is okay, since it won't land you in jail.
So if you want to live on the other side of the law, and make some moonshine, then this is the slot machine that you should be playing, moonshine. So keep an eye out on the wild grandma, and the sheriff who represent the different special icons of this video slot machine. Of course, the game does not only offer players an action packed ride that comes with plenty of rewards, as the visuals are of top notch quality that would create an immersive and an engaging ride, that only Micrgoaming can offer.