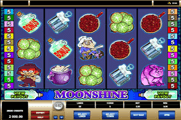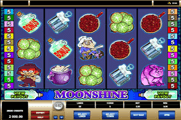 Moonshine Slots Free to Play Slots Game
Quite an odd theme for a slot game. Moonshine slots free symbols and theme of the game features the many visuals that are associated with moonshine. From the hillbillies, grandma to the sheriff, you'll be chocked with a lot of references to the world of moonshine. It's an odd mixture but something that gives the slot game world a new thing to behold.
Microgaming Slots Free Collection
The gameplay plays like other slot games. The maximum bet is quite high; you can bet up to $125 per spin which is quite a risk but something any risk-taker will take just for the sake of winning more. The bonuses you'll get in the game are appealing.
The Wild symbol of this game is the Grandma symbol. This icon would appear anywhere across the reels and the lines of the game in order to substitute for any of the other icons on the lines of the game to help players in claiming a payout by triggering a line prize. It can replace different symbols on different lines in order to help players create a winning combo on all of these lines. Of course, like any wild offered at any Microgaming game, it will not be able to replace the other special icons that the game has, and in the case of Moonshine, the other special icon is the scatter Sheriff symbol.
The Scatter Sheriff Symbol is going to trigger scattered payouts for lucky players who manage to get from 2 to 5 scatter sheriff icons anywhere across the reels of the game. That is not all, as the scatter sheriff can also trigger one of the two special features of the game, which is the free spins round. It is triggered when players manage to get at least 3 scatter sheriff icons any where on the reels of the game. As for the second
It may be illegal in real life but in the world of games, moonshine is allowed everywhere. So take your time and spin the slots to get your own moonshine by joining the southern Grandma as she evades the sheriff who is trying to shut down her moon-shining business. You will join her on a great adventure that is full of excitement, fun and plenty of rewards. All of these rewards can be found at the payouts table of the game. So take a look at the table and see what this game is going to give you.