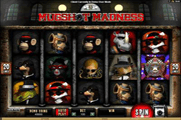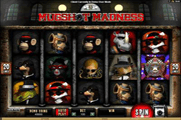 Mugshot Madness will have you feeling like you're in the middle of a mobster movie, with a twist. Instead of your typical gangster characters, these ones are more guilty of breaking out of the zoo than corruption and racketeering. That is to say, they're animals, literally. This is a five reel video slot, so there's a fair share of characters to occupy the twenty paylines. So get ready for watching a group of captured animals who are getting their mughshots taken, which explains the name that Microgaming has chosen for the game, Mugshot Madness.
What you really want to focus on the line across the bottom of the screen more so than who pops up on the reels. This is where your "Most Wanted" will be listed, and as you get each one on a winning payline, they get a "Captured!" box across their picture. Each criminal has a different multiplier bonus attached to it too, with the crocodile criminal being like the godfather of them all, and of course, worth the most.
Since the game is powered by Microgaming, it goes without saying that the game is presented in wonderful visuals and sound effects. This is how the game creates an immersive and a highly engaging gaming experience that players will surely enjoy. The game is available here for free as it is offered in demo credits so players can spin the reels as much as they want without having to place any real money bets or making any deposits.

There are all sorts of other bonuses too, like scatter symbols, wilds, and free spins too. No progressive jackpot, but with a side game so unique and fun, you won't miss what you're not getting with this game. It's truly one of the more unique and creative of the video slots out there, and plays more as an adventure game rather than a slot. This is one video slot that has a theme for entertainment value, rather than for a color scheme and graphics. This is sure to quickly become one of your favorites, and one that you won't easily tire of playing, since you never know which criminal will pop up next. All of the different line pays and the special features and symbols that the game has can be viewed at the paytable of the game so players can have an idea on what the game is going to offer them.