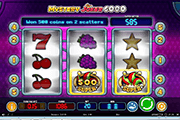 Mystery Joker 6000 Online Slot: 3-Reel Classic with Mystery Wheel Rewards!
Mystery Joker 6000 online slot by PlayNGo furnishes a 3-reel play of matching reel elements on any of five (5) available paylines. Vegas-style icons such as the Number 7, Star, Bell and an array of Fruit Symbols may align as matched elements in any of 3 horizontal, or 2 diagonal lines. Typical of a classic slot machine content, the Number 7 is the highest paying. It awards 200 coin credits when 3 of the icon land as line win.
This game though veers from ordinary slot play thru its Mystery Wheel, which determines the payout of the special Joker Symbol. Moreover, it includes a Super Meter Bank, which when activated increases chances of landing on high-value Joker Payouts. Even more awesome is that with Super Meter Spins, it only takes 2 Joker Symbols to step up  the game via Super Meter Spins!
Mystery Joker 6000 Online Slot: Mystery Wheel Feature
The Mystery Wheel awards coin credits ranging from 20 to 6000. Three (3) Joker Symbols aligning as matched contents of any payline, award one (1) Mystery Wheel Spin. The number of coins on which the Pointer lands will then be the payout for the Joker Symbol payline win.
To make the 3-reel slot play even more exciting, PlayNGo added a Super Meter feature that increases chances of landing on Big Wins via Joker Symbols.
Mystery Joker 6000 Online Slot: Super Meter
The Super Meter feature is actually an option to set aside one's winnings as a collective set of wagers via the Super Meter Bank. Transfers are carried out by hitting the Arrow Up Button that lights up with every Win achievement.
The game then will use the banked winnings as wagers per spin, whilst continuing to transfer all payouts to the Super Meter Bank. That way, once a Super-funded spin lands on a Joker Symbol Win, players have heightened chances of landing on bigger Mystery Wheel prizes.
The greater significance of super-funded spins is that it takes only two (2) Joker Symbols as payline contents, to garner one (1) Mystery Wheel Spin. Landing on three (3) Joker Symbols via a Super Meter Spin is even better, because the game awards as many as three (3) Mystery Wheel Spins.
However, once the Super Meter Bank runs out of funds, the slot play reverts to the standard requisite of landing on three (3) Joker Symbols to activate the Mystery Wheel.
Mystery Joker 6000 Online Slot: Joker Respin Feature
During standard base plays, the game awards a second-chance Respin if two (2) Joker Symbols land on any paying line. The reels on which the two (2) Joker icons are in place will remain stationary, while the non-Joker Reel will launch a respin at no extra cost.
Mystery Joker 6000 Online Slot: Betting Options
All five (5) paylines are active during each spin. The game requires placing two (2) coins per line or a total of 10 coins per spin. Players have to select a coin value, anywhere between 0.01 and 10.00, to establish the Total Bet that will launch each spin.
A Mystery Joker 6000 playing session therefore, may run on bets as low as 0.10 (5 paylines x 2 coins x 0.01) or higher; up to a maximum of 100.00 (5 paylines x 2 coins x 10.00.) per spin.
Mystery Joker 6000 : Joker Symbol Payline Winnings Determined via Mystery Wheel Feature
Mystery Joker 6000 is a 3-reel online slot that veers from the conventional icon-matching game by featuring three important elements: the Joker Symbol, the Mystery Wheel and the Super Meter Bank. Landing on Joker Symbols as winning contents activates a Mystery Wheel spin to determine the prize of the winning Joker combo. The Mystery Wheel may award more than one spin, if the winning Joker Combo was achieved by way of bets taken from the Super Meter Bank. The latter segregates winnings to super-fund a spin that will later enable them to collect additional Mystery Wheel Prizes.