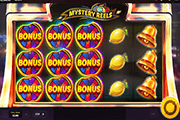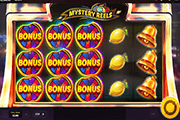 Mystery Reels Online Slot: Mystery Symbols and Bonus Wheel Bring Guaranteed Wins!
Mystery Reels online slot by Red Tiger is a 20-payline online casino content enhanced with a rich array of Mystery Symbols. A yellow Apple-shaped element reveals several matched images, lining up consecutively in adjacent reels. More often than not, each set of revealed symbols is a boon, because they are likely to bring surefire wins. If luck is on a player's side, the images may even match those already displayed by the reels.
Although this Mystery Reels online slot does not have a Free-Spins Bonus Round to offer, it awards Bonus Prizes by way of a tombola style Spin Wheel. The Bonus Wheel has a Double All element that upgrades all winnable prizes. According to the Mystery Reels Game Info, the Bonus Wheel is configured to award up to 1000x the Line Bet.


Vegas-style slot machine icons such as the Number 7, a Bell, and an assortment of Fruit Symbols land on reels as stacked images. The Number 7 has the highest Paytable Values. A grouping of 3, 4, or 5 Number 7s lining up in any payline correspondingly awards 100, 300, or 900 credits.
The Golden Bell is not far behind with its own set of payouts. The Bell image doles out credits of 60, 180, or 540 on the same number of winning images. Of the Fruit elements, the Watermelon commands the most number of coin credits; 40, 120 or 360 accordingly.
Mystery Reels Online Slot: Mystery Symbol
The yellow Apple-shaped totem that carries unknown surprises may emerge in any reel or row. A single Mystery Symbol proceeds with the feature by displaying a numeral that indicates the number of alike images to reveal. It then projects several sets of one-of-a-kind icons, spreading to adjacent reels in any direction; vertically and/or horizontally. The last set of Mystery images projected becomes the final Mystery Symbol revelation.
This Mystery Reels slot does not specify any limit to the number of identical images revealed. Players may experience a Mystery event resulting to as many as 10 alike images spreading like wildfire across the grid. The possibilities are awesome, as the revealed icons may even match those that are already in view.
There is also no exception to the type of image that lands as Mystery Symbol. That being the case, Mystery Reels players can gain access to the Bonus Wheel Game via this feature.
Mystery Reels Online Slot: Bonus Wheel
Two or more Bonus Wheel icons emerging naturally, or by way of the Mystery Symbol, activate the great big Bonus Wheel above the slot screen. The number of Bonus Symbols in view is important. It determines the number of times a player can spin the Prize Wheel.
A Bonus Wheel may land on a wedge that awards any of the following:
Total Bet Multipliers of 2, 3, 5, 6, 8 or 10. Those numbers may increase if another spin lands on the Double All prize wedge.
Double All upgrades all prizes in view including those awarded as Additional Wheel Spins or Additional Prizes.
Additional Wheel Spins of +3 that give players increased chances of raking in more bonus prizes.
Additional to All is a +5 increase on all Bonus Wheel prizes.
Mystery Symbol – The win-boosting Apple-shaped image may reveal any of the featured Bonus Wheel Prizes.