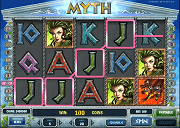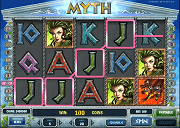 Myth Online Slots is a Greek themed game, which is based on a Greek hero, as well as the Golden Amphora. The entire theme of the game is Greek, including the building that surrounds the reels, as well as the shape of the letters and numbers within the game. Myth is a five-reel, 20 pay line game, and it has many mythical creatures within the game.
The game has no intro, and it goes directly to the reels for playing. Once at the reels, the player can choose their bet amount, which starts at one cent, and goes up from there. The player can also choose the amount of pay lines they want, but remember, the more pay lines played, the more money the player may win.
An auto-play feature is in the game, allowing players to let the game play for them. The game has a wild, and a scatter symbol, but the wild cannot substitute for the scatter. The wild symbol is the Greek Hero, while the scatter symbol is the Golden Amphora. The game also features free spins, as well as multipliers. There is a low, ominous sound of music that plays in the background, but it does not overtake the game. The wild has the highest payout in the game, and it's possible to win 5000 coins, if five of these symbols are obtained. The scatter only pays out 200 coins, if five of the symbols are obtained.
Getting a wild will double all the wins, and it can substitute for any symbol, except for the scatter. The scatter wins are only multiplied by the bet amount, and then the winds are added to the total. Anyone who is lucky enough to get the free spins, will also get a three times multiplier. The free spins can be re-triggered, up to a total of 60 spins. Myth has an incredible payout amount, especially for those who are lucky enough to get a lot of free spins.