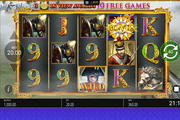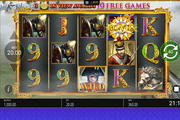 Napoleon Online Slot : Napoleon Wilds Pay up 16x on a Payline Win
Napoleon online slot by Blueprint Gaming showcases one of the most influential figures who rose to power in Europe in the early 19th century. Here, Napoleon demonstrates his power to dominate outcomes by acting as Wild Symbol. As such, his imposing image can stand in as substitute symbol, for purposes of completing or expanding a payline win. Yet Napoleon Wilds offer more than just substitution actions. It also awards a 2x Win Multiplier that multiplies in value. That is, if more than one occurs as components of à winning combo.
Occasionally, Napoleon images emerge as a stack of Wilds in a reel. At times, along with single- cell icons of the powerful French Emperor. Those instances all the more heighten chances of landing Wild-wins that could increase by up to 16x. A feature called Napoleon Streak boosts players' chances of experiencing such an event.
Once the Napoleon Streak transpires, winnings are likely to come. If Lady Luck is on a player's side, he or she may even land a high-value winning combination, composed purely of Napoleon Wilds.
The Napoleon Streak is guaranteed to occur in a Free-Spins Bonus Round. A word of caution though when placing big bets aimed at activating the bonus round. The Bonus Symbol is somewhat elusive, and may take a while before a set of 3 comes around to unlock the bonus game grid.


Even the top paying icons, such as the French Foot Soldier and the French Battleship are not as easy to come by as winning combos. Nonetheless, the Soldier icon awards 400 win-credits on a pair that emerges as winning combo. Striking a payline win with 3, 4 or 5 Soldier Symbols, can garner as many as 800, 1200 or 4000 win-credits.
Napoleon Online Slot : Wild Symbol
Napoleon Wild Symbols occur anywhere across the 5-reel grid and comes with a 2x Win-Multiplier. Often times, they come around as single-cell units in one or more reels. Occasionally, Stacked Napoleon Wilds may also appear.
The 2x multiplier applies if a Wild forms part of a payline win. A single Wild tile completing two sets of winning combinations, applies the 2x Multiplier in both instances. When more than one Napoleon Wild takes part in completing a winning payline arrangement, the Multiplier factor grows exponentially. Two, three, or four Napoleon icons forming part of a single payline win, correspondingly applies a 4x, 8x or 16x Win-Multiplier. A payline win with multiple Wild components therefore yields higher payouts.
Yet if 2, 3, 4 or 5 Napoleon images organise as winning combination, the credit rewards are bountiful. The longest Napoleon combination transpiring as payline win, draws out 400, 800, 1200, or a whopping 100,000 win-credits.
Napoleon Online Slot : Napoleon Streak Feature
Napoleon icons streaking across the grid occurs as a random base game event; but promised as a Bonus Round feature. During an ongoing spin, a huge 3×3 Napoleon image surfaces, but only to summon multiple Wild Symbols. Once the reels have settled down, 3 or more Wild Symbols are guaranteed to land on random reel positions.
Napoleon Online Slot : Bonus Round
A round of 10 free games kicks off, if a paid spin placed 3 Scepter Bonus tokens in Reels 2, 3 and 4. Another round retriggers if during the bonus bout, another set of Scepter Bonus Combo emerges.
The Napoleon Rise of an Empire Game Info declares that the Napoleon Streak Feature is certain to transpire as a bonus event.