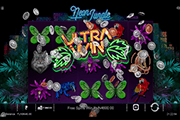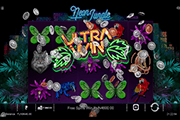 Neon Jungle Online Slot: It Only Takes a Glimmer of Neon Glow to Activate a Bonus Feature
Neon Jungle, is a 20-payline online slot by Iron Dog Studio founded on a 3 x5 grid. Varying images and symbols accomplished in neon colors fill the reels. The game play is standard. Three or more one-of-a-kind symbols aligned from the leftmost reel, garner an equivalent cash reward. Yet the mechanics followed in triggering four (4) significant Bonus Features, is not at all conventional.
It takes only a circle of bright light called Neon Glow and the related special symbol, to launch a bonus event. The Free-Spins icon, the Scatter image. a 4x Win-Multiplier and the Bonus Game Symbol, when in view and illuminated with Neon Glow, instantly activates the corresponding feature. That is regardless of the number of Special Symbols in view, and of the reel position on which the neon-illuminated image appears.


A Monkey image is a non-paying Wild symbol that merely serves as a joker card. When aligned with identical images along a paying line, the Monkey can represent the symbol to complete a winning combo. In some cases, the Wild can even expand a grouping into a longer, higher-paying arrangement. Wild-completed wins are dependent on the Paytable Values of the winning icon.
Anticipate matched groupings of the grayscale Tiger icon. Three, four, or five of this element correspondingly award the highest rewards of 50, 400, or 2000 credits, when occurring as payline win.
Neon Jungle Online Slot: Scatter Symbol
An image of a Chameleon labeled as Scatter, awards a fixed Scatter Pay of 250 coin credits. When landing across any position across the grid, a single Chameleon Scatter encircled by a Neon Glow instantly grants the bonus prize.
Neon Jungle Online Slot: 4x Win-Multiplier
A 4x Win-Multiplier randomly attaches itself to a regular-paying icon. A symbol enhanced with a 4x Win-Multiplier and at the same time encircled with a Neon Glow, has great potential to bring substantial rewards. In the event that particular Multiplier-enhanced icon forms part of one or more winning payline arrangement/s, all related coin rewards will increase 4x.
Neon Jungle Online Slot: Free-Spins Round
A Free-Spins icon embellished with a Snail image, when illuminated by a neon glow, activates a round of six (6) free games. Regardless of the number of Snail Free-Spins on display, the number of bet-free spins awarded is fixed at six (6).
If any of the reels return after a bonus spin with a new, Neon Glow-lighted, Free-Spins Symbol, another set of six (6) bonus spins will extend the free bout.
Neon Jungle Online Slot: Keno Light Bonus Game
The Swan icon displays a Bonus label, indicating that if that image lights up with a Neon Glow, the Keno Light Bonus Game initializes.
A Keno game will carry on via a Game Board containing 28 symbols. Fifteen of those numerals will be drawn. Any drawn numeral matching a set of 15 numbers randomly generated at a player's instance, and displayed in the main Keno Light Board, is a win.
Here, payouts are based on how many drawn numerals match those that lit up in the Keno Light Board. A zero win still awards a minimum of 50 coins. The greater the number of matches, the higher the coin rewards in store. If by a stroke of luck, 10 or more numerals hit a match, a maximum coin win of 20,000 will be awarded.