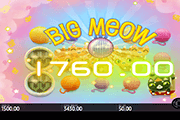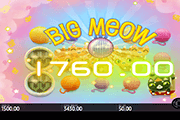 Not Enough Kittens Online Slot: Wild and Cat Symbols Double-Up When Forming Payline Wins!
Not Enough Kittens is another eye-catching as well as engaging online slot from Thunderkick. Cartoon images of adorable wide-eyed Kittens come across reels as single and/or dual symbols. The 2-in-1 images already count as two elements in the same position. A single and dual, or a pair of dual Kitten icons taking positions in Reels 1 and 2 therefore, easily forms a winning combination. Actually, even the Wild and Free-Spins totems have dual versions.
Solo or duo Wild Symbols can bring payouts to the hilt. Not just because a wild card can complete a win or expand a one-of-a-kind arrangement. In this game, Kitten images that combine with a Wild Symbol within a paying line, automatically transform solo Wild and Cat icons into Dual Symbols. That being the case, the Paytable Values for Kitty wins provide for as many as 10-of-a-kind Kitten icons that converge as winning combis in any of 35 available paylines.


All Not Enough Kitten symbols, including the low-win Yarn Balls award pays on three or more symbols. The Black Kitten has the highest payout values. Black Kitten Pays range from 0.60x the Total Bet on a 3-symbol win, to as much as 100x the Total Bet on a 10-symbol win. The White Kitten also awards notable cash prizes; ranging from 0.40x to 75x the Total Bet on 3 up to 10 matched images.
Not Enough Kittens Online Slot: Wild Symbol
The greyscale W and the WW tiles represent the Wild card that can form or expand payline wins by way of substitution or representation. Now if the icon it combines with is that of a Cat element, a W automatically becomes a WW icon. All single-tile winning Kitty elements aligned with that Wild, will undergo similar transformations, instantly becoming dual symbols as well.
When occurring as one-of-a-kind contents of a paying line, the longest of a 4, 6, 8, or 10-symbol W and/or WW grouping, garners a corresponding Wild pay. Wild payout values on a minimum 0.10 per Spin Bet range from 0.15, 0.75, 3.00, to 10.00; while a 100.00 Max Bet can earn players Wild pays ranging from 150.00, 750.00, 3,000.00, up to 10,000.00.
Not Enough Kittens Online Slot: Free Games
Not Enough Kittens players will experience all those win-boosting features in a round of free games. In addition, Wild Symbols, be they solo or double, are configured as stacked elements in the bonus grid. To qualify for the bonus round, a paid spin must produce at least three F ((Free-Spin) Symbols.
The number of F or FF icons involved in setting off the bonus bout, determines the number of bonus spins awarded. Three, four, five or six F and/or FF Symbols, scattered across the play area, bring 10, 15. 20, or 25 free-spins into play. During the round, another set of F and/or FF symbols landing anywhere across the grid, accordingly re triggers a full round of Not Enough Kittens free games.