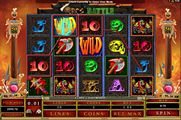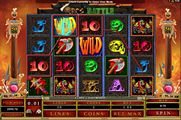 Orcs Battle is a great gift for all of the Warcraft and Lord of the Ring fans out there as the game is themed around the vicious battles of the Orcs. Players will be a part of these battles as they place bets and spin the reels of this exciting video slot game. The theme dominates the entire interface of the game. This is why the visuals of the entire game is themed around Orcs, Orc warriors and Orc weapons, that includes the symbols that will appear on the reels and lines of the game, as well as the visuals that surround the reels.
For example, players will notice that there are two orc skulls on war spikes on the left and the right side of the reels. As for the reels themselves, players will see plenty of Orc warriors and battle weapons that spin in the form of symbols on them. There are also colorful poker card symbols. All of these symbols have a lot to offer to players in terms of payouts whenever players manage to match a minimum of 3 matching icons from the left to the right. They will get paid according to the paytable of the game. This paytable does not only list the regular line pays that the symbols can give across the fifty lines, as it also shows players all of the special icons and features that players can take advantage of during the game play.
[/CBC]

The game comes in a simple format of 5 reels and a total number of 50 betting lines that players can place their bets on. These wagers can be placed at the bottom of the game's screen where players will see all of the different betting options they can go through such as the number of lines, the value of the used coins and the number of coins placed per betting level. This creates a wide wagering range that appeals to all kinds of players.
The game has a scatter symbol, which is represented by the logo of the game. This scatter icon has the ability to reward players greatly through scattered rewards and by triggering the wild free spins round. During that round, any wilds that land on the reels will be hammered and will stay there for the remaining spins in the bonus round to help players form a lot of winning combos for the rest of the free spins round.