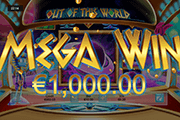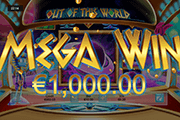 Out of this World : Unlocking Magic Portal Reveals One of Three Bonus Features!
Out of this World online slot by Leander Games visualises Ancient Egyptian culture if occurring in a different planet. Popular Egyptian Symbols such as the Sphinx, a Pyramid and a Scarab, as well as a Purple Planet and a Moon, land as top paying symbols. The Sphinx has the highest reward values; awarding 40x, 100x or 500x the Line Bet on a set of 3, 4 or 5 emerging as winning combo.
Actually, any symbol, including the low-win Card Suit icons, has great potential to bring lucrative returns. Here, a set of 3 or more alike symbols aligning in adjacent positions of any paying line, is a winning combo. One-of-a-kind symbols converging in contiguous payline positions, regardless of where the alignment starts, strike a payline win.
On top of the game's flexible icon-matching format, three (3) random Bonus Features occur to bring guaranteed multiple 3-of-a-kind wins, 5-of-a-kind wins, or free-spins. Awesome even is that in a free bout, additional bonus features may transpire; bringing more guaranteed multiple winning arrangements in any of the 20 paying lines.


Out of this World Online Slot: Portal Bonuses
To unlock one of three (3) Portal Bonus Features, a so-called Portal must take position anywhere in Reel 3. Once a Portal is in place, any of the following guaranteed-win events will transpire:
Three-of-a-Kind Wins
As the Portal opens, it draws in all symbols currently displayed by the three (3) centre reels (Reels 2, 3, and 4). The Portal will then fill all three (3) reels with identical images; certain to bring multiple 3-of-a-kind winning combinations. Now if Reels 1 and/or 5 display matching images, any of the three-of-a-kind combis expands into a higher paying 4 or 5-of-a-kind win.
This Out of this World bonus feature guarantees that at least 20 x 3-of-a-kind wins will turn up as outcomes.
Massive Bonus
An unlocked Portal modifies the centre reels by transforming a random symbol into a colossal 3 x 3 icon. The huge image naturally brings an equivalent set of nine (9) identical elements in Reels 2, 3 and 4; already ensuring multiple 3-of-a-kind payline wins.
Still, this Portal bonus comes with a guarantee of bringing wins in massive proportion by way of 5-of-a-kind arrangements. It goes without saying that Reels 1 and 5 are certain to display icons matching the Colossal Symbol. That way, the promise of bringing at least 20 x 5-of-a-kind wins will be fulfilled.
Portal Free Spins
This is the most exciting outcome unleashed by the Portal, as it brings a streak of bet-free spins. When the background turns red during the bonus bout, the Portal will re-appear to create greater impact. Any of three (3) Portal Bonus Features will be forthcoming; possibly even in succession.
Pay attention to the Out of this World Pharaoh standing beside the grid. There will be occasions in which he may decide to zap the middle reel, in order to produce a Portal at will.