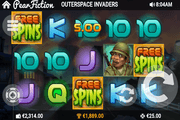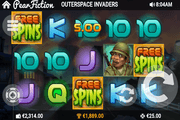 Outerspace Invaders Online Slot: Expanding Wild, Mini Arcade Game and Free Games w/ Win Multiplier
Outerspace Invaders is a 25-payline video slot created by Pear Fiction, carried as online casino content by Leander Games. Presented with comic strip-like illustrations, the contents run a wacky depiction of an epic alien invasion. The game features a husband in distress, and a loving wife who will face even the most monstrous alien in order to save him. Base game spins will see the housewife turn into a full-reel Expanding Wild, by way of the "Rachel Goes Wild" Symbol.
Rachel's heroic actions to free her husband Robert from the alien boss Zerk, transpires during free games. The bonus game adds Special Rachel icons possessing Attack Points, which can diminish Zerk's health. Every successful Attack increases the Bonus Game Multiplier, from to 2x up to a maximum of 10x.
In the meantime, the National Guards have their hands full; shooting down arriving alien spaceships. Players will have a chance to participate in the military incursion during a mini arcade-style Radar Bonus Game. The total number of spaceships shot down will then serve as Total Bet Multiplier. The equivalent value at the end of the feature will then be awarded as Bonus Prize.


Aim to land on Rachel's single-tile images, as they can form the highest paying payline combo. A collection of 3, 4 or 5 Rachel icons aligned in a payline, starting from the far left position, garners a reward equal to 100x, 500x or 5000x the Coin Bet, respectively.
Outerspace Invaders Online Slot: Expanding Wild Symbol
A tile marked as "Rachel Goes Wild" serves as Wild Symbol. It appears in Reels 2, 3 and/or 4 only to represent any regular-paying icon.
This Wild Symbol comes with an expanding attribute, which activates every time it helps complete a winning payline arrangement. If it does, the "Rachel Goes Wild" Symbol transforms into a full-reel image of a shotgun-toting Rachel. Players therefore gain additional chances of hitting payline wins by way of the Expanded Wild.
Outerspace Invaders : Radar Bonus Game
This mini arcade-style bonus feature activates the moment three or more Radar Symbols scatter across the grid's airspace. Here, the greater the number of Radar Symbols involved in activating the bonus feature, the higher the value of the Multiplier Value awarded as bonus prize. On every three, four or five Radar Bonus Symbols activating the bonus game, the multiplier value correspondingly starts increasing at 1x, 2x or 3x the Total Bet.
Initially, eight (8) alien spaceships appear in the Radar Scanner. Players then have to click on each flying object in order to shoot it down. Up to as many as 18 spaceships appear, giving players a chance to increase their Multiplier Reward. However, if one reveals a Game Over message, the bonus game ends instantly.
Outerspace Invaders Free Games
This free-spins bonus round runs on a 3×4 grid whilst displaying a new set of high value symbols; showing close up images of Zerk's different body parts. When a scattering of 3, 4 or 5 Free-Spins icons are in view, a corresponding set of 8, 12 or 20 free rolls will kick off.
Rachel Attacks
During the bonus bout, three (3) new Rachel images may emerge. Each special Rachel image possesses Attack Points that can bring down the Alien Boss.
Depending on the type and number of images in view, each successful Rachel Attack will earn payouts that will weaken Zerk in the following manner:
3 Rachel with Grenade icons forming a Scatter combo, draw the highest payout: 3x the Total Bet. Such an event will also inflict the greatest damage on Zerk's health.
2 Rachel with Shotgun images in any spot, garner a 2x Total Bet Scatter Pay. The scatter win can also help in vanquishing Zerk.
1 Rachel with Baseball Bat on any position inflicts the least damage as it awards 1x the Total Bet. Still, the icon may appear frequently and therefore reduce Zerk's health repeatedly during the bonus round.
Multiplier Meter
Aside from reducing Zerk's health, every successful Rachel Attack fills the Multiplier Meter accordingly. The quicker it takes for Rachel to succeed in defeating Zerk, the greater the Win Multiplier that will apply to all bonus winnings earned during the round. The range of winnable Multipliers is from 2x at the least, and up to 10x at the most.