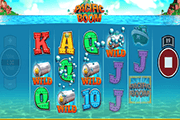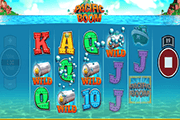 Pacific Boom Online Slot: Base and Free Games Receive Boosts from Exploding Depth Charges
Pacific Boom online slot from OpenBet, presents a battle-themed content depicting offensive attacks launched by a battle ship. The 3×5 grid contains 20-paylines, for players to fill with 3 or more alike symbols via reel spins. The outcomes of a spin will likely be affected by the depth charges randomly released by the warship patrolling above the grid. The explosive charges may create special Wilds or Colossal Symbols.
In the Free Games, the bonus grid presents a different setting, as win-boosting features will come from a submerged target. Pacific Boom players may get to play any of 4 types of Bonus Games. One is a Pick Bonus segment, while the three others are Free-Spin Rounds with varying win-enhancing attributes.


Pacific Boom Online Slot: Wild Symbol
The Depth Charge image is the Wild that may land on reels as outcomes of a spin; or appear as additional Wilds after a random attack. Depth Charge Wilds may emerge in any position, and possibly in adjacent reels; making them capable of forming a winning payline combination.
As few as two Wild Explosives can garner a 2-credit win for as long as they occur on the leftmost reels. A grouping of 3, 4, or 5 Wilds completing a payline win, awards credits amounting to 50x, 100x, or 500x the Line Bet.
Pacific Boom Online Slot: Random Base-Grid Modifiers
Deployed Depth Charges can bring on any of the following to create changes before a paid spin produces its final outcome:
Deep Wilds are random single-tile Depth Charge Wilds that will take arbitrary positions in the grid, before reel elements settle as outcomes.
Wild Drop brings on one up to 4 Wild Reels fully covering columns in which they appear.
Up Periscope places the view from inside a submarine. The periscope will be able to locate 3 adjacent reels that will combine and create a 3×3 Colossal Symbol of any kind, except the Bonus icon.
Radar Wilds on the other hand, will locate line patterns. One of which be filled with 3 Depth Charge Wilds once the triggering spin completes a full turn.
Pacific Boom Online Slot: Bonus Games
Two (2) plain Bonus Symbols in Reels 1 and 3, combining with a Bonus-specific Insignia in Reel 5, will set into motion, the corresponding feature.
Mine Runner represented by the 3-Star Green Insignia, is a Pick Bonus Game. Participating Pacific Boom Players will pick and reveal the element behind one of 3 highlighted squares. If the selected square reveals a Total Bet Multiplier, a player will advance to the next column. Another set of 3 highlighted squares will likewise contain factors that can increase the current Multiplier Value.
The picking activity continues for as long as the selected square reveals a Multiplier. Should a player choose a square that reveals a Bomb, the feature ends. The Bonus Reward will be based on the last Total Multiplier Value displayed by the Meter.
Royal Blast is a Free-Spins Round activated via the 3-Star Blue Insignia. it awards 10 Free-Spins played on a grid in which Bombs may hit the Royal (A, K, Q, J and 10) symbols. Once hit, the affected icon will no longer appear as reel element during the bonus bout.
Wild Ranks is another Free Round, but this time awarding 12 Bonus Spins. It comes with a Medal Collection Feature that rewards players by upgrading symbols into Wilds, and adding 3 Extra Spins. To activate this feature, the Bonus trigger combination must include the 4-Star Red Insignia in Reel 5.
Battlesubs is a round of free games that awards an indefinite number of spins. Depth Charge Wilds occurring as outcomes may land on a spot occupied by an enemy submarine.
A Wild that lands on a Submarine will replace the latter; whilst becoming Sticky through the remaining battle spins. The bonus round ends once 3 enemy subs have have been destroyed by incoming Wilds.