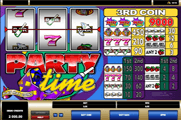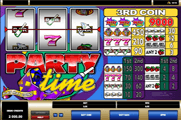 It is Party Time, which means that it is time to enjoy a great 3 reeled classic gaming experience that takes you to where the fun is at, the party. The game does not only offer a fun and exciting theme through its colored visuals and graphics, as it also brings players a highly rewarding gaming experience that is full of payouts and prizes that players can claim throughout the game play.
Party Time is a very fun and an exciting 3 reeled video slot machine that is themed around a fun and parties. This is why it is called Party Time and this is also why all of the symbols appearing on the reels of the game are about party and fun. These symbols include cherries, champagne bottles on bar symbols, pink sevens, the logo of the game and a jukebox. Although all of the symbols come in simple visuals, but they still manage to provide players with an entertaining experience.
Players can place their bets at the bottom of the game's screen under the 3 reels of the game. Players will go through two betting options. The first one is the number of coins they want to place on each paylines. Players can place 1, 2 or 3 coins and they will also choose the value of the coins they want to use to place the bets, and of course, the higher the wagers that players have placed, the more rewards that players will be able to claim as they form winning combos on the game's lines.

On the right side of the screen, players will see the paytable that shows them the different combos that they have to achieve in order to claim a payout. It is divided into 3 parts since players can place from one to three coins. The highest paying symbol is the logo of the game as it rewards players with a jackpot of 9000 coins if they place the biggest bet and get 3 of the game's logos on the winning line of the game. The game can be enjoyed here for free without risking real money but players who want to play it for real will have to play at Microgaming online casinos. This way, players can check out the game and see what the game has to offer them before they start placing real money bets and before making real deposits on any of the online casinos that offer the game for free.