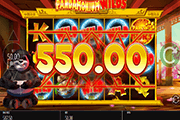 Paws of Fury Online Slot: Five (5) Random Spin-Win Boosters; Array of Five (5) Bonus Games
Paws of Fury Enter the Panda is another Blueprint Gaming online slot that combines awesome win-boosting elements and array of Bonus Wheel Games. The selection consists of a Pick Me Game. a Bonus Trail Game, two (2) Free-Spins Round and a Guaranteed-Win Big Money Bonus. Since this game is linked to the Jackpot King Progressive Bonus Money, Paws of Fury players may get a chance to spin the Wheel King that awards Big Win Multipliers and Progressive Jackpots at stake.
The Paws of Fury Game Logo lands across reels as highest-paying icon. Two, three, four or five Logo Symbols occurring as payline win, award 2, 40, 100, or 500 credits. Sharing the same set of Paytable values is the Golden Paws Wild Symbol. The substitute icon can also form standalone  winning Wild combinations.
Paws of Fury Online Slot: Random Bonus Feature
While a spin is in progress, the meditating Ninja Panda outside of the slot screen, may snap out of its rumination. The Panda's action thereafter may result to any of the following:
Pandamonium Wilds -The Ninja Panda kicks the reels to place multiple Wild Symbols in random reel positions. The current screen display will then be appraised for wins. The Ninja Panda gives the game board another kick, this time to launch a respin, whilst holding all existing Wild Symbols in place.
Belly Smash – Here, the featured Panda animation smashes its belly against the slot board. The action will have a smashing impact as one or more reels will fill with Stacked Wilds.
Golden Super Spin – Using mind power, the Ninja Panda modifies the reels by adding several Mystery Symbols. Once the reel-spinning motion comes to a stop, the Mystery Symbols turn into a single type of arbitrarily selected regular icon.
Eye of the Panda -The Ninja Panda awards this bonus feature to a random winning spin. Thru meditation, it wills the reels to respin, whilst keeping all winning symbols intact. The feature ends if the respin results to higher winnings than that achieved by the original spin, If otherwise, the respin continues until such goal is attained.
Panda Mind Trick – This feature adds a massive quantity of Bonus Symbols to the reels. The additional Bonus Game icons increase odds of hitting a winning Bonus combination that will activate the Bonus Prize Wheel.
Paws of Fury Online Slot: Bonus Prize Wheel
Three (3) Ninja Panda images simultaneously scattered across the grid, initializes loading of the Bonus Prize Wheel panel. After a spin, qualifying Paws of Fury slot players may choose to play the highlighted Bonus Game by clicking on Collect; or opt to gamble on another spin in order to activate another Bonus Game. As this is a gamble feature, there is no guarantee that the next spin will land on the alternative title on display.
The array of Bonus Prize Wheel segments include the following:
Win Some Dough – A Pick-a-Bonus Game that awards a Total Bet Multiplier once a player unravels three (3) matching Multiplier Values. Any of the Barrels presented for selection may also reveal an Upgrade Symbol that will increase the Mystery Multiplier Prizes. If by chance, 3 Golden Panda images made a match, the game immediately advances to the Big Money Bonus segment.
Journey of the Panda is a Trail Bonus Game that also awards Total Bet Multipliers until a player reaches the Big Money Bonus; or land on a Collect prompt that ends the feature.
Rise of the Panda Free-Spins is a round comprised by multiple reels set to which bonus players advance once they get to collect the required number of Yin Yang icons. Players who succeed in advancing to the next level reels receive additional free-spins. If the free-turns run out, the bonus segment ends.
Panda Warrior Free-Spin runs on a 5×4 grid containing 40 oaylines. Here, Wild Symbols are collectible elements. Collected Wilds will be added to the reels to enhance an Extra Free-Spin awarded at the end of the regular bonus round.
Enter the Panda Big Money Bonus – Although a simple game of choosing Flowers that reveal Mystery Prizes, this segment is certain to award Big Wins. Players simply collect wins continuously. However, if a COLLECT prompt, rather than a Cash Prize comes into view, the prize-picking activity ceases
Paws of Fury : Amazing Reel Modifiers and Terrific Bonus Games Selection
Paws of Fury online slot contains five amazing reel modifiers all aimed to boost chances of striking Big Wins. More bonuses can be won thru any of 5 games awarded as Bonus Wheel prize, or even via the Jackpot King Game that awards Total Bet Multipliers and Blueprint Gaming's Jackpot King Progressive Jackpot.