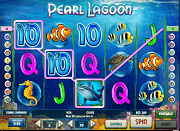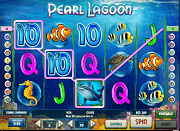 Pearl Lagoon Slots is a 20-payline five-reel slot machine that has an exciting underwater theme. Pearl Lagoon is one of many games designed by the Play'n GO company where players can accesse with mobile devices. Additional game are included where players may increase their winnings while trying to win free spins.
Pearl Lagoon is exceptionally popular among large numbers of slot players because it is one of the best paying slot games. Betting on all 20 paylines can bring in a signficant payout.

The Pearl Lagoon slot has exciting sound effects and graphics, but even with the display, the screen does not match the excitement of the paytable. The Pearl Lagoon is known to offer payout percentages of 96.88%, making it one of the highest payout percentages in the Play'n GO slot games.
In Pearl Lagoon Slots, the Dolphin icon is the wild symbol. If players can collect five dolphins on the paylines, players have a better chance of claiming a jackpot worth $5000. The scatter icon is the Oyster symbol. Players who gain more than two of these icons on their active paylines will receive a free spin bonus game.
100 coins is the maximum bet per spin on the Pearl Lagoon slot machine. This is because there are twenty paylines each accepting a five coin maximum. The players can adjust the Stake levels based on individual preferences. To adjust the stake levels, simply choose a coin value from the available options. The range values start from one cent to a maximum of 25 cents. If desired, the mobile slot game can be played as a penny slot.
Coin Value – Is where the players change the bet value ranging from $.01 to $.25.
Coins – Controls the number of coins per line.
Lines – Select number of pay lines – ranges 1 to 20.
Bet Max – Selects five coins needed per line – 20 paylines per game.
Spin – Button that spin the reels.
Autoplay – Button that brings up the autoplay menu.
Paytable – This button shows additional information about Pearl Lagoon.
Collect – Appears after winning spin only
Gamble – Enter gamble feature
Bonuses – Scatter bonus activates a wild symbol, a free spins feature, and the always-fun gamble feature