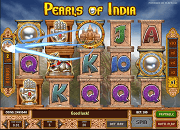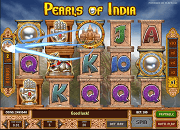 Pearls of India Slots as released by Play N Go, is actually a sequel of the game called Aztec Idols. The later was a huge success upon its release that encouraged the makers to release the next game Pearls of India that did not disappoint the players too. The game, like its predecessor, features rich wilde including pearls, rubies and what not and also features the characters local to Indian culture like Ganesh, Budha and several temples.
It is very quick to load and hence smooth to play, not to mention is increasingly comfortable. Speaking functionally, the game has 20 lines and has a couple of extra bonus features.
There is a temple bonus level where players can win up to 250x bet sizes and in every free spin they can win as many as a million coins. As noticed for many slot games that offer so much in reward in the form of coins, they are horrible to play, but this is not the case in Pearls of India as it is reasonably good to play and worth the while.
The payouts are enormously high and the numbers are astonishingly big. More than 96% say the figures but the makers say that the real thrill and benefit of such a high payout rate is that the players bet high. As a player goes on to win, the images or symbols keep on changing, thus constantly replacing the older ones. By spending just 25 temple coins, the makers have added in a superb feature called the temple bonus trigger. These temple coins need to be in the bonus meter for the players to keep them playing. Also, there are free spins offered and as soon as the free spins expire, the meter again resets to original level.
Pearls of India is truly a game to wager on as the payouts are high and returns are highly probable. Not to mention, the game is fun to play and is very smooth in game play.