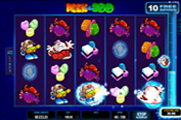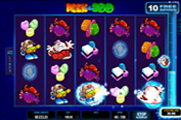 Peek a Boo 5 Reel – Features Free Spins Played via 1024 Ways-to-Win Reels
Peek a Boo 5 Reel online slot is played on a set of 40 fixed payline-reel during base game spins. The bet-free round on the other hand, is played via a 1024 ways-to win set of reels. In addition, the free-spins bonus game has a re-spin feature that increases the free-spins initially awarded as bonus game play.
A Microgaming ghost-themed game presented in high definition cartoon graphics, Peek-a-Boo 5-Reel  online slot has an exceptional Wild Symbol that helps players land on greater payline wins.

Peek a Boo 5 Reel  Wild Symbol Features
The Peek a Boo 5 Reel Logo serves as the Wild Symbol. In addition to posing as eligible substitute for regular icons to create one-of-a-kind combos in a payline, it can also form its own winning line combination. Three, four or five Wild Symbols landing simultaneously on paylines after a spin, pay cash rewards of 3.00, 10.00 or 50.00 accordingly.
The Peek a Boo 5 Reel Wild can also appear as Stacked Symbols, increasing the possibilities of landing on one-of-kind symbol combinations in multiple paylines. More so in the Free-Spins Game, as the Wilds constantly appear as Super Stacked Symbols in Reels 4 and 5
.
Peek a Boo 5 Reel Ghost Meter Feature and Ghost Buster Symbol
The Ghost Buster, a regular Peek-a-Boo 5-Reel  icon has that special task of helping players fill up the Ghost Meter located on the right side of the slot screen. As a regular symbol, it pays payline rewards for three or more matched outcomes. The Ghost Buster that lands on Reel 3 performs the task of zapping any kind of Ghost icon positioned in Reels 1, 2, 4 and 5 but only for that particular spin.
The zapped Ghosts will then be accounted as part of a player's Ghost Collection, filling up the Ghost Meter. As soon as the meter becomes full, the Peek-a-Boo 5-Reel  Free Spins Game launches. Aside from awarding players with a set of 10 bet-free spins, a random bonus reward will be instantaneously reflected as Free-Spins Bonus win. The instant bonus win will be based on the number of ghosts collected, albeit capped up at a maximum of 13 Ghost icons per Free-Spins Round.
Peek-a-Boo 5-Reel Spooky Re-spins
During the Free-Spins Game, Reels 4 and 5 are capable of launching additional bet-free reel turns. Microgaming calls this feature the Spooky Re-spins, which can be activated by any 3-same symbol combination landing on Reels 1, 2 and 3. The winning matched symbol/s will stick to their position during the re-spin. This make it possible for slot players to hit higher 4 or 5 of a kind combinations for the same symbol, in addition to other potential payline win matches that could appear as outcomes of the re-spin.
Peek-a-Boo 5-Reel  Free-Spins Game
This bet-free round is played with a set of reels configured with 1024 ways-to-win patterns. However, all Free-Spins payline coin rewards are multiplied by the bet-size pertaining to the ghost collected for that round.
This payout scheme stands in contrast to the standard bet per payline basis of determining the cash value of a payline win. Nonetheless, with the Super Stacked Wilds and the Spooky Re-Spins, Peek-a-Boo 5-Reel  slot players can expect to land on multiple winning combinations more frequently.