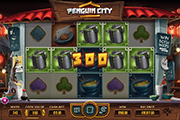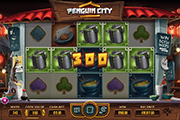 Penguin City Online Slot: Wild Wins Flourish via Penguin Escape Mode and Stacked Emperor Wilds
Penguin City is a Win-All-Ways online slot by Yggdrasil Gaming, depicting Penguins enslaved by a Penguin Emperor. It comes with an amusing special feature called The Penguin Escape Mode; illustrating a storyline of how penguin kitchen workers try to escape drudgery. The feature triggers every time a Wild-Win transpires.
A Penguin Emperor though may bar them from their attempts to flee. The Royal Penguin occurs as an imposing Wild Reel element, taking up an entire column as his imperial position. Still, his presence greatly influences succeeding spins, in light of the Penguin Emperor's nature as a Lingering Wild.
Even if this Penguin City game has no Free-Spins Bonus Round to award, wins are certain to happen during The Penguin Escape Mode and via the Emperor Wild Reel. The results are fair enough alternatives to bonus wins garnered via Free-Spins.


Pneguin City Wild Symbol
This game's joker card is a straightforward Wild icon set against a red backdrop. Its appearances though are confined to Reels 2 and 4 only. Nonetheless, Wilds that align with 2 or more identical symbols in adjacent reels, can complete a winning arrangement.
In this game, winning combos that include at least one (1) Wild as completing or expanding component, are doubly valuable Mainly because aside from resulting wins, the event also sets off The Penguin Escape Mode.
Penguin City Online Slot: The Penguin Escape Mode
Once triggered, the Wild/s triggering The Penguin Escape Mode stay glued to their current position. Any win event occurring during this feature will prolong The Penguin Escape Mode. Moreover, additional Wilds emerging as outcomes will likewise stay sticky until completion of the feature.
Completion takes place if an inclusive spin does not produce a winning combination, Not unless an escaping Penguin succeeds in its attempt to fly off.
Penguins' Freedom Flight – Pay extra attention to the Penguin Minions perched on a shelf on the left side of the screen. One by one, each Penguin will try to fly out of the kitchen while the game is still in the Escape Mode. If an attempt succeeds, one of two (2) things happens; ensuring that a winning event transpires:
• A Wild will be placed in a strategic position to make certain the current outcome results to a win.
• A nearby Wild swaps position with a Reel 3 element in order to create a winning combination.
Wins after Wild addition or position swap, will then allow the Penguin Escape Mode to continue; whilst giving other Penguins a chance to initiate their freedom flight.
However, if the Penguin Emperor arrives, its presence will prevent Penguin Minions from carrying out their escape plan.
Penguin City Online Slot: Stacked Emperor Wilds
The Penguin Emperor is a full image of a penguin royalty, equivalent to 3 Wild icons stacked in Reel 3. A spin may land either a full or partial display of the Penguin Emperor in that particular reel. Nonetheless, any segment in view can represent a symbol for purposes of completing a winning arrangement.
Although appraised as a Wild-Win, such an event does not trigger the Penguin Escape Mode. Penguin City players though can still benefit from its reel presence, since the Stacked Emperor Wilds will linger in the grid for a while.
On each spin following the Penguin Emperor's arrival, the image shifts down by one (1) reel position. The shifts continue until the entire display of Stacked Emperor Wilds is no longer in view.